May 27, 2014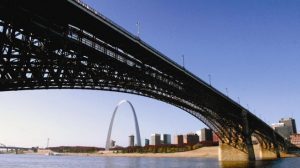 Tonight after the evening rush hour, the Missouri Department of Transportation will close the ramp from westbound Poplar Street Bridge onto Interstate 44/Memorial Drive. To avoid the traffic headaches, MetroLink is a great option to travel across the Mississippi River into Downtown St. Louis or beyond.
Ten Illinois MetroLink stations offer free Park-Ride options.  Park your car at one of these lots and enjoy a stress-free, quicker commute.
On average, it takes about two minutes to cross the river from our East Riverfront Station. If you're boarding a train at our Fairview Heights MetroLink Station, it'll take you about 19 minutes to get downtown. To find out how long your commute will take, use our handy Trip Planner tool.
Metro also provides a safe and cost-effective alternative to driving. If you want to give us a try, a round trip fare costs $4.50 ($5 in July). That's a little more than the price of a gallon of gas. To find out how much gas you could save, plug in your numbers into our fuel savings calculator.
Let us help you get downtown through the construction in a timely manner.
Return to Blog