March 15, 2012
Take Transit to St. Patrick's Day Parades in St. Louis – Here's How
Return to Blog
St. Patrick's Day in 2012 is poised to fall upon very favorable conditions – happens on a Saturday, and predicted to be a beautiful, warm day in spring St. Louis. Green is the color of the day, but the Bradford trees will be in puffy white bloom, with yellow daffodils and purple spring larkspur coloring the sidewalks. It will be a beautiful day to celebrate the Irish heritage in St. Louis, and a great opportunity to use transit to attend one of St. Louis' large and very popular St. Patrick's Day celebrations.
St. Patrick's Day Parade in Downtown St. Louis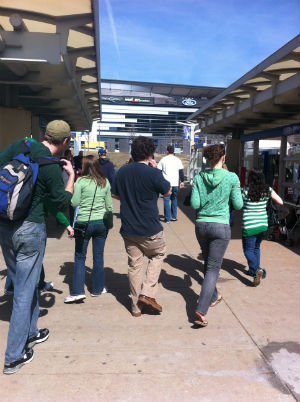 The St. Patrick's Parade in Downtown St. Louis is one of the nation's largest and most attended parades, and noted as the most attended annual event in downtown St. Louis. Thousands of people are expected to line the streets of Market Street to wave and cheer at parade participants. If you want to avoid the hassles of driving and paying for parking, take MetroBus to a station or park in one of our free Park-Ride lots. MetroLink provides a traffic-free route right to the parade. Exit MetroLink at the Union Station, Civic Center, 8th and Pine, Stadium or Convention Center MetroLink Stations to reach the parade route along Market Street. Parade begins at 11:30 a.m. Saturday.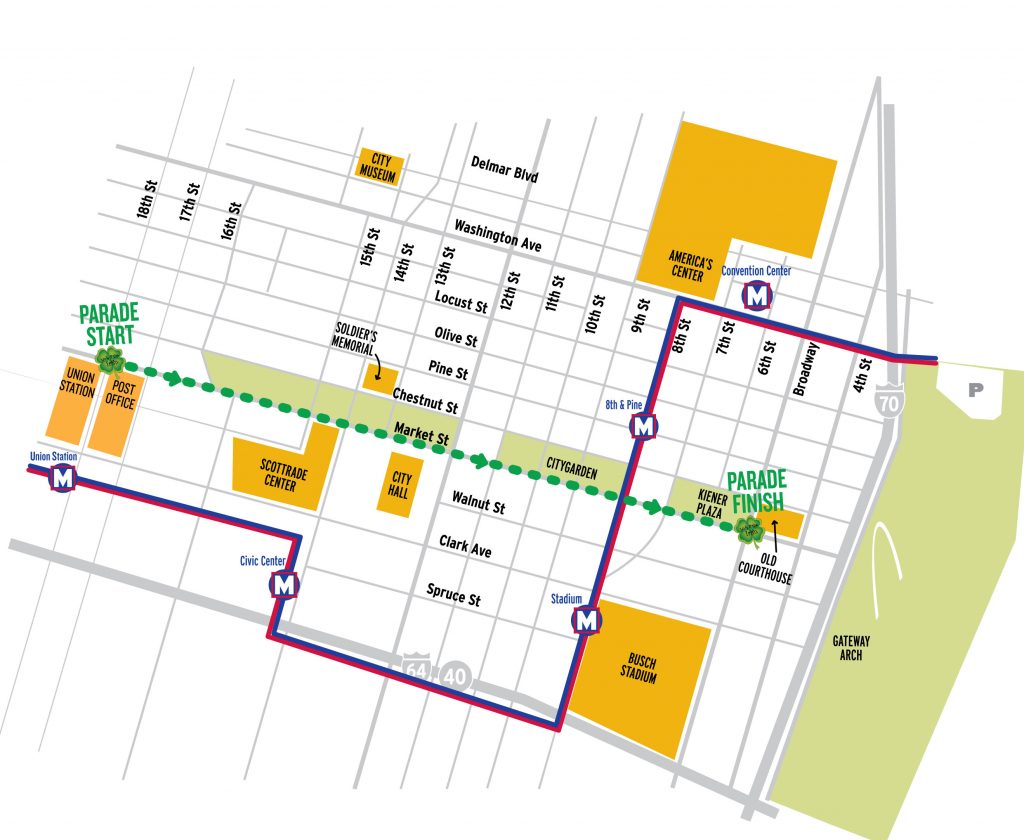 MetroBus is also a great way to get to the parade. Civic Center MetroLink Station serves 13 routes on Saturday from all over the region, and the #70 Grand will serve Union Station. See our Rider Alerts page for reroutes around the parade route, Many MetroBus routes will drop you just a couple blocks from parade route, and it's a great way to leave the car at home.
Hibernian St. Patrick's Day Parade in Dogtown neighborhood in St. Louis
Since 1984, the Ancient Order of Hibernians have celebrated St. Patrick's Day in the neighborhood in St. Louis known as Dogtown. Dogtown is actually made up of four City neighborhoods, but collectively has a rich Irish-American history and culture. The parade draws thousands of green-clad enthusiastic folks to the Clayton-Tamm area, and many area businesses and residents get into the spirit with green, orange and white decorations and flags. Parade begins at 12:30 p.m.
Due to the parade taking place in a residential location with narrow streets, several MetroBus routes will be rerouted away from the neighborhood to keep buses running on time. However, MetroBus is still a good option to reach the Dogtown neighborhood and to avoid parking challenges. Take the #32 to Manchester and Tamm stop, and walk 0.5 miles north to the intersection of Clayton and Tamm. Also, there will be a bus shuttle running every 40 minutes from the Central West End MetroBus Center to St. Louis Community College at Forest Park. Exit the bus at the Oakland Avenue and Highlands Plaza Drive exit, and walk 0.7 miles west on Oakland, across Hampton to Clayton Avenue and Tamm.
Note: the #59 Dogtown and #90 Hampton will be on reroute from 9:30 a.m. to 5:00 p.m. on Saturday.
Biking is also a great way to reach either of these parade locations. Be sure to be careful of traffic conditions, and use a good bike lock to safely park your bike.
Have question about how to get around on Saturday? Tweet to @STLMetro with #stpats for updates, directions and rider information.
If the beautiful weather and hearty libations aren't reason enough to celebrate St. Patrick's Day, remember that many Irish citizens immigrated to America to work on very promising new form of transportation in the 1860s: the transcontinental railroad.
"May your pockets be heavy and your heart be light,
May good luck pursue you each morning and night." – Irish blessing. Happy St. Patrick's Day!
Return to Blog