August 19, 2020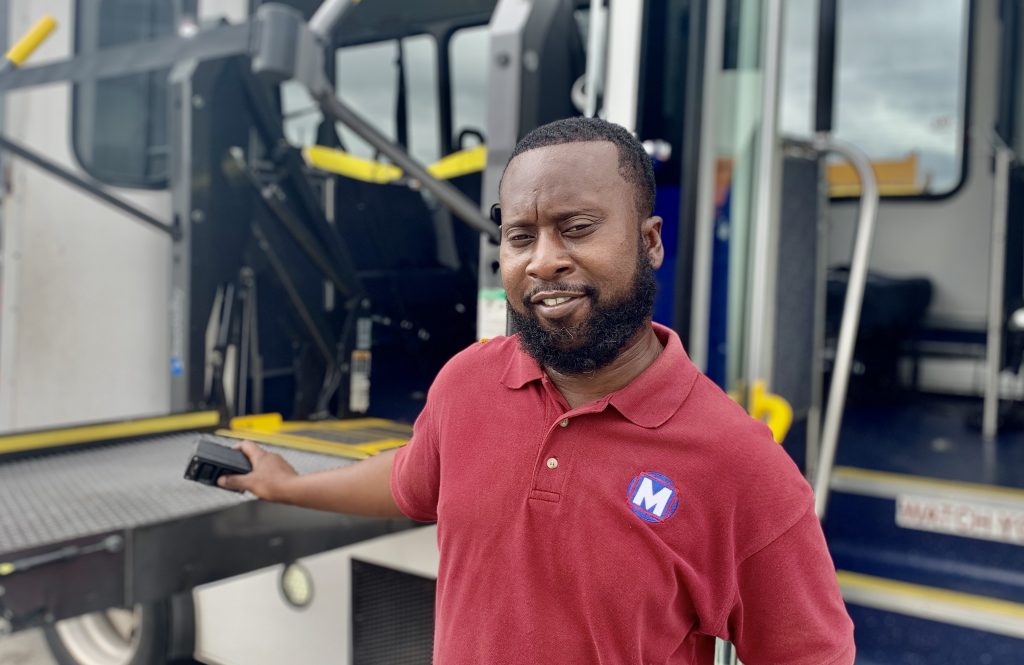 Our team members work hard to keep our region moving every single day. From operators to customer service, maintenance to mechanics, and operations to public safety, we bring the best of the best together to deliver progress, collaboration and innovation to our communities. Follow us as we share their stories. 
We are excited to introduce you to Everett, a Metro Call‑A‑Ride Operator who has worked at Metro Transit for 3 years. Metro Call‑A‑Ride is focused on serving passengers who rely on transit to get them where they need to go, but whose disabilities can prevent them from using the accessible MetroLink and/or MetroBus network.
Everett told us he joined the Call‑A‑Ride team because of the customers. He has relatives with special needs, and he has a special place in his heart for our Call‑A‑Ride passengers. The relationships that he builds with passengers is an important part of his job, and he says it is what energizes him at work.
According to Everett, another great thing about working for Metro is his coworkers. The tight-knit group is there for him when he needs them, and he likes that he can be there for them, too. He also likes the culture of growth for employees – it is up to you on how far you want to go with your career. And, the health care benefits are among the best he has ever seen.
Outside of work, Everett loves spending time with his mom, dad, kids and nieces. He also enjoys traveling throughout the country, and has visited 47 states.
He learned his love for travel from his father. And now through his work, he gets to help others travel to their important destinations.
Everett also shared that he is a "nerd" for astronomy. Growing up, he remembers having his telescope out in the middle of the street as a child to look at the stars and planets.
Check out our Q&A with Everett below to learn even more.
What was your first job?
I worked for a school district over the summer as a prep cook in the cafeteria.
What do you love about Metro?
My coworkers — they are like my family.
Do you have a secret talent?
I do a lot of research. I can trace back family histories on my own, back to the 1400s.
What is a fun fact about yourself?
I can tell you how to get to any interstate in the nation. … I have been to 47 states, and I got three more to go. (Vermont, New Hampshire and Maine are last on his list!)
Give us 3 words to describe Metro.
I love it.
Any advice for new riders?
Be kind — this is a friendly environment. Being kind will take you a long way.
When you're out riding with us, make sure to pause and thank our team members for what they do. We could not move the region without them. Thank you, Everett!
Return to Blog
Categories:
Metro Lifestyle
,
Team Metro