March 25, 2015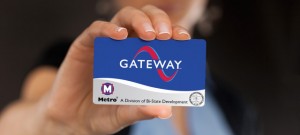 Metro is preparing to move into the second phase of testing of the Gateway Card — your new ticket to ride transit, and we're looking for customers who use both MetroLink and MetroBus as part of their daily commute.
You can be one of the first to try out the new Gateway Card and help us shape how this new fare collection system will work.
To sign up as a tester, you need to meet these requirements:
Be a MetroLink AND MetroBus customer who rides frequently
Do not receive a Metro Pass from your employer
Do not qualify for a reduced fare
Have an email address
If this sounds like you, please fill out the Gateway Card Pilot recruitment survey. If you're selected as a tester, you will be given a Gateway Card to use when riding MetroBus and MetroLink so you can provide feedback about your experience with our new fare system. You also will be entered into a drawing to win a free 30-Day Metro Pass.
We started testing the Gateway Card on MetroLink last September and are using your feedback and suggestions to make improvements to the Gateway Card system. For more information on the Gateway Card and to sign up for email updates, visit www.mygatewaycard.com.
Return to Blog
Categories:
Technology