January 19, 2010
We know everyone is busy. There is a lot of information out there to ingest. So this post is designed to be a 60-second summary (actual time may vary!) of the draft "Moving Transit Forward" plan presentation that we released yesterday.  You've got 60 seconds for the future of St. Louis transit, right?  Let's go.
What is "Moving Transit Forward"?
STL region's vision for transit restoration, growth and enhancement: 5-year, 10-year, 30-year.
How do we make transit decisions?
The planning team studies land use and regional data on population, employment, travel patterns and projections, and incorporates public input via community workshops, meetings, and websites.
But…East-West Gateway Council of Governments selects projects for design and construction.

Projects must be eligible for federal funding, and must have financial support at local and state level.
Using which criteria will we select projects?
1. Best service for as many people as possible.
2. Cost effective
3. Encourage economic development
4. Help mitigate congestion and pollution
5. Contribute to strength of region's core
Assumption:
Service restoration and any expansion will require additional financial resources.
THE PLAN
First Step
Service restoration of MetroBus, MetroLink and Call‑A‑Ride to pre-March 2009 levels
Passenger Amenities and Technology
Smart Cards
Computer-aided dispatch/automated vehicle location (used in CTA's BusTracker)
More transit centers
Web- and cellphone-based applications
Light-Rail
Potential corridors: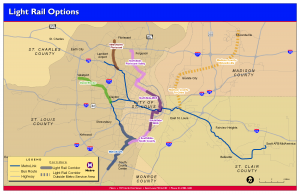 Planning, design, construction requires about 10 years, costs $60 million per mile
Final planning & design phase will determine stations, end points
Bus Rapid Transit (BRT)
Potential corridors: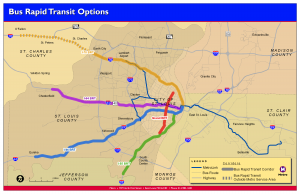 Planning, design & construction requires about 5 years and costs approximately $30 million per route
Final planning & design phase will determine stations, end points
Commuter Rail
Potential corridors: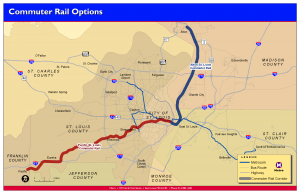 Success depends on federal and state support of high-speed rail initiatives
Costs approximately $20 million per route if federal and state governments build rail infrastructure
How would we fund the plan?
Additional local funding is required for sustaining system, restoration and expansion.
Additional state funding is required to implement full scope of projects.
Federal funding is required for any major expansion project.
When could we see these projects?
1-5 years
1. Service Restoration
2. Planning and engineering for next light rail route
3. Three bus rapid transit routes
4. East-West Gateway selects light rail and BRT routes
5. Passenger amenities and technology
5-10 years
1. One light rail extension constructed and operating
2. Fourth BRT route
3. East-west Gateway selects next options for expansion
4. Additional transit centers
10-30 years
1. Second light-rail alignment
2. Begin planning and engineering phases for third light rail extension
Commuter rail?
Depends on federal and state support for high-speed rail
St. Charles County, Jefferson County, and Madison County, IL?
Depends on intent and funding from these counties
What happens now?
Seek public input through February 2010
Seek Metro Board of Commissioners approval in February 2010
Seek plan adoption from East-West Gateway Board
Final plan recommendation released in March 2010
There you have it. We are still seeking public input on the draft through February, so please check out this the long-range plans's online survey to give us your feedback on the specifics of the plan.  If you have any questions about the plan, please let us know at [email protected].
Return to Blog
Categories:
Capital Projects
,
Transit Benefits