May 22, 2013
The Point 105.7 FM Gets a Jump on Dump the Pump Day This Friday with $50 Gift Cards for MetroLink Riders
Return to Blog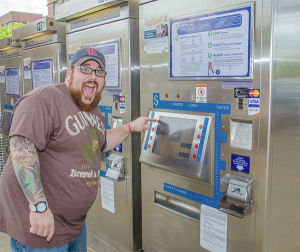 Did you know that households that use public transportation and live with one less car can save on average $9,000 every year? According to the American Public Transportation Association, public transportation's overall effects save the United States 4.2 billion gallons of gasoline annually. Riding public transit can save you money in several ways – especially by reducing fuel costs – and that's a big part of the focus of the 8th Annual National Dump the Pump Day coming up on June 20.
But Tony Patrico of St. Louis radio station KPNT 105.7 FM The Point has a more direct profit motive in mind for you. To get a jump on Dump the Pump, he'll be riding MetroLink Friday afternoon (May 24) and giving away $50 Visa gift cards and other prizes, courtesy of Citizens for Modern Transit (CMT), to passengers who spot him. He's calling his celebration "Where's Tony Transit?"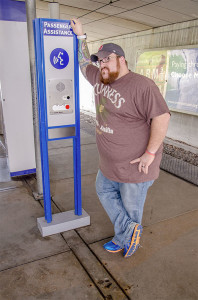 Click here for more details!
Patrico endorses the Dump the Pump message of riding public transit to reduce your expenses for gas and parking, as well as to help get in better physical shape by walking or biking to transit stations or bus stops. But to sweeten the pot, Tony will be distributing the gifts cards while riding MetroLink trains between 4 p.m. and 5:30 p.m. this Friday and again on June 14 and June 20. Be sure to listen for his messages about the giveaways on The Point at 105.7 FM.
"Try taking Metro," Patrico said, "because it pays to ride transit."
Metro also will be joining Patrico, CMT, American Public Transportation Association (APTA), transit agencies, environmental groups, and others across the country to celebrate the 8th Annual National Dump the Pump Day on June 20. Metro Ambassadors will be at select MetroLink stations and bus stops across the region to distribute giveaways while reminding everyone that public transportation is the way to go.
Sponsored nationally by APTA, the event encourages commuters to take public transportation and save money instead of driving their cars. Gas prices are continuing to climb and one of the quickest ways to save money is to take Metro Transit.
Click here to find out just how much money you can save by switching to public transportation. Put your information  into tour fuel-saving calculator!
With 37 stations along the 46-mile MetroLink system and nearly 400 MetroBus vehicles serving more than 7,400 stops, as well as 121 Call‑A‑Ride vans transporting customers with disabilities, Metro Transit is getting citizens of the Bi-State region where they need to go.
Return to Blog