January 12, 2011
The Story of the Bi-State Development Agency or Why Metro is Building a Bike Trail Connector
Return to Blog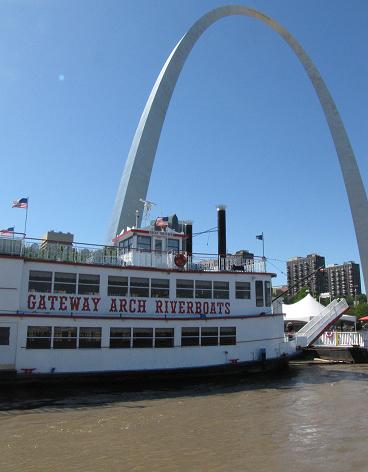 Recently, questions have been asked about Metro's $1 million FTA grant to connect the planned Soulard Bikeway Extension and the North Riverfront Trail, called the Jefferson National Expansion Memorial Bike Connection.  Why is Metro involved in the project?  Isn't Metro a transit agency?
The answer is – yes, we are a transit agency and much more.  Transit is certainly what we are best known for.  It is our largest business, but it's not our only business.  In fact, it wasn't even our first business. The Bi-State Development Agency, now better known as Metro, was created in 1949 to help drive regional development.
The Jefferson National Expansion Memorial Bike Connection project does not take money away from running buses and trains.
The bike trail grant was secured by Metro's Business Enterprises Division.  Though not as well known as part of the agency as the transit arm, Business Enterprises' work is widespread and contributes millions of dollars in economic impact to the region.  Business Enterprises reopened Parks Airport, and currently operates it as the St. Louis Downtown Airport in Sauget, Illinois.  The airport is the third busiest airport in Illinois, contributing $300 million in economic impact to our region.  Business Enterprises also runs the trams that take visitors to the top of the Gateway Arch.  The Arch parking facility was funded by and is operated by Business Enterprises.   Business Enterprises operates the Gateway Arch Riverboats, preventing an important riverfront attraction from leaving the region and operates several other riverfront attractions.  Business Enterprises does not rely on tax revenues and instead brings money back to Metro to help offset administrative costs.
The redevelopment of the Arch Grounds, scheduled for completion in 2015, is an immense development project involving many community partners and effecting years of St. Louis riverfront tourism and regional identity.  Attracting federal dollars to our region for the JNM Bike Connection is Metro's contribution to riverfront development, designed to connect more people and communities to the active public spaces along the Mississippi River.
As Metro President and CEO John Nations said, "This is exactly what we should be doing for the region.  In fact it's what we've always done.  For more than 60 years, the Bi-State Development Agency has been solving regional problems and fueling the regional economy."
History of Bi-State Development Agency Projects:
–    Sponsored a study of pollution in the Mississippi River in the St. Louis area, leading to a successful program where local industries voluntarily agreed to treat wastes to reduce pollution.
–    Completed a study of sewer problems in St. Louis County, leading to the creation of the Metropolitan Sewer District.
–    Studied the need for modern river port facilities leading to development projects at the Granite City Dock.
–    Took over operation of regional public transit after purchasing 15 private transit firms in 1963.
–    Purchased Parks Metropolitan Airport in 1964 to be a reliever airport for Lambert Airport traffic – now the St. Louis Downtown Airport.
–    Financed the tram system to carry visitors to the top of the Arch.
–    Became one of first agencies in country to equip buses with wheelchair lifts.
–    Introduced Metro Call‑A‑Ride paratransit service.
–    Initiated the Arts in Transit public arts program.
–    Support regional tourism by operating Gateway Arch Trams, Gateway Arch parking facility, and the Gateway Arch Riverboats, bike rentals, helicopter rides and more.
Return to Blog