September 12, 2016
TOD Corner: The Everly to Bring Unique Experience to Delmar Loop
Return to Blog
Transit-Oriented Development (TOD) refers to the investment that takes place at and around transit stations or transit centers. TOD is often a catalyst for economic growth – improving access to jobs, housing and amenities, and helping promote active lifestyles and a reduced dependence on automobiles.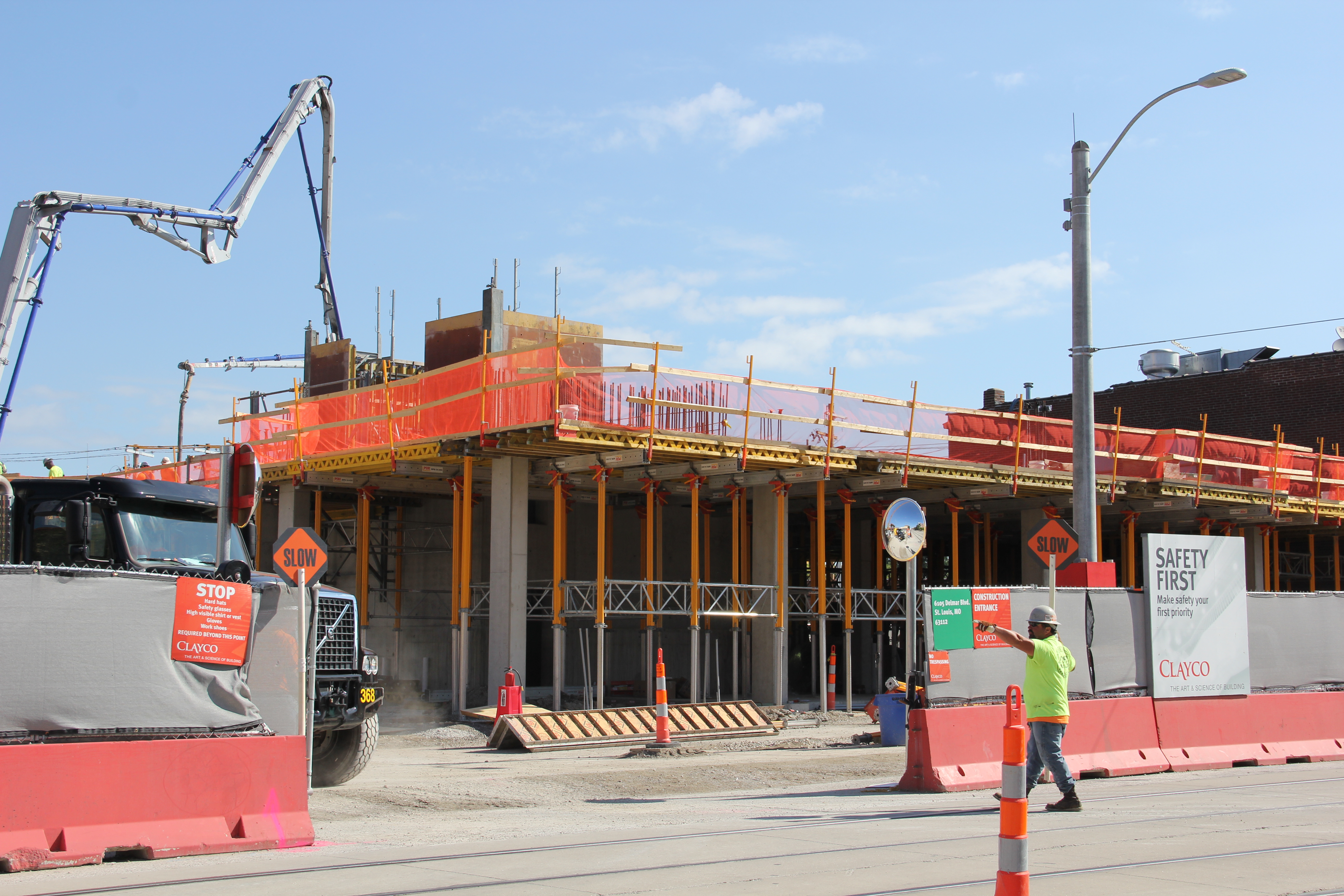 With the success of the Delmar Loop area in attracting college students, families, and tourists, and the Loop Trolley opening in 2017, the Delmar Loop MetroLink Station and Delmar Loop area are becoming a hotspot for development.
Clayco Realty Group and The Koman Group have begun construction on a 14-story mixed use building at 6105 Delmar Boulevard, less than 500 feet from the Delmar Loop MetroLink Station.
The Everly will include 428 beds marketed to Washington University students, 4,500 square feet of ground floor retail, and a large amenities terrace with a pool and gym. The ground floor retail will serve to activate a vibrant, walkable environment on Delmar Boulevard.
---
"With the MetroLink only steps away, this unique student housing experience can rely upon public transportation to access our region's most vibrant destinations." – Jason Braidwood, president of Koman Group
---
With 211 structured parking spaces, bike storage for 150 bikes and on-site car sharing, residents of the Everly will have the convenience of local transportation at their doorstep.
Jason Braidwood, president of Koman Group, said the proximity to a MetroLink station brings unique value to the development.
"The Koman Group is pleased to partner with Clayco Realty Group to bring The Everly to the thriving Delmar Loop," Braidwood said. "With the MetroLink only steps away, this unique student housing experience can rely upon public transportation to access our region's most vibrant destinations. Cars and parking come at a heavy premium for college students. MetroLink and The Everly will combine to offer an efficient, affordable convenience to shopping, concerts, travel and baseball."
Blueprints: 
Project: The Everly
Developer: Clayco Realty Group and Koman Group

Elements: 14-story, 428 beds, 4,500 square feet of retail, amenities terrace

Timeline: Construction began in May 2016 and is expected to be complete in August 2017
Return to Blog
Categories:
Economic Development