July 16, 2012
Transit-Oriented Development: Your Chance to Get Involved
Return to Blog
Attention, armchair planners: Now is your chance to help guide future development in the St. Louis region!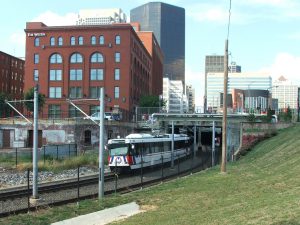 As one of 11 stakeholder agencies partnering with East-West Gateway Council of Governments on the development of a Regional Plan for Sustainable Development, Metro is playing a key role in helping stakeholders craft strategies for encouraging Transit-Oriented Development (TOD) around MetroLink stations. As part of our contribution, Metro staff members performed an analysis of all 37 existing MetroLink stations and we compiled a detailed Station Area Profile for each station, drawing together helpful information about the usage of each station and the character of surrounding neighborhoods.
To create the profiles, we looked at:
Existing land use and building types;
Demographic and employment data;
Unused or under-used properties that may offer development opportunities;
Existing barriers – physical barriers, policy barriers or legal barriers like zoning laws – that might discourage good TOD within a half mile of the station; and
Existing community planning efforts in the station vicinity.
The profiles provide a comprehensive analysis of existing conditions around each station, and will serve as a baseline for future planning related to land use, development, and transportation infrastructure in close proximity to the stations. They could also serve as a model for studying any future station locations.
What's the point of all this studying? The region recognizes sustainable development for St. Louis must include a more balanced approach to development: one that slows but does not stop outward expansion, while encouraging growth in more urbanized areas that have the capacity and existing infrastructure to support it. Focusing new development around transit stations is a key element in fostering a more sustainable future. As we move forward, Metro will seek opportunities to use its own real estate and other tools to help spur development projects which will in turn promote greater transit ridership.
The Station Area Profiles will serve as the foundation for an in-depth market demand study of the existing MetroLink alignment, which is now being conducted as part of the regional plan. The findings from that study will feed directly into the more comprehensive TOD Framework Plan and the subsequent TOD Station Plans being developed by East-West Gateway and the City of St. Louis for up to 10 of the individual stations.
How can I get involved? You can keep tabs on the progress by visiting Metro's Transit-Oriented Development webpage, where you can also sign up to receive the regional plan newsletter, and view and download all or any of the 37 station area profiles. Beginning July 16, you can also attend workshops to learn more about TOD and give your input into the study and future development.
Return to Blog
Categories:
Economic Development
,
Scheduling and Research
,
Transit Benefits