June 19, 2009
Rick at StlRising posed a question today about the WeCar Prius that he can see from his downtown office window.
Does anybody know about the program? How do you get in on it? Could I ditch my car, ride Metro downtown, and then have the We Car available for trips during the day out of the office?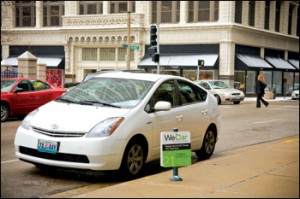 WeCar is an interesting program. Lots of cities have flex-car programs; St. Louis's is run by home-town Enterprise.  The essential idea is that you apply to become a member and, once a member, you can reserve the WeCar for specific periods of time and use as needed.
Flexcars are great for people who are trying to be car-independent but want a little more flexibility and/or range than public transit can offer, even when there's no friend to hitch a ride with. What I hear most is that people who are car-free by choice and who rely on transit find the added flexibility gives them the extra freedom they need in situations that might otherwise tip them towards going ahead and getting a junky, "just in case" car – and wasting all that money on insurance and maintenance for a car that is mostly parked. I think it's also a great idea for businesses who don't want to maintain pool cars but need employee transportation from time to time.  (More on those ideas at TreeHugger.) Details on St. Louis's program after the jump.
If you look at the website linked above, that's the national program and it explains the ins and outs of how the program works – how to get gas, how to make a reservation, the rules, etc. I actually had to call the customer service number to find out that there's a different URL for the local St. Louis program (wecar.com/stl, which actually redirects to here), and that's where you find the application for membership. Membership requirements include:
21 years old*
Valid Drivers' License
Valid Credit Card
*Interestingly, the rules differ for those 18-21 years old. If you fall into that category, you have to be a college student at a member college. In St. Louis, the only member college, according to the customer service rep I called, is Washington University. Students at WashU can become members but have a few extra hoops to jump through.
The program, from the outside, looks great. There's a $35 annual fee to become a member, and once a member, you only pay per hour of usage ($10/hr currently; $30 flat fee for the time between 6pm and 8am). Insurance and gas are included. I have no experience with this particular flexcar program, but I know the one in Portland was used with great success by many of my friends while we were car-free and in school – it came in very handy for Saturday hiking trips especially.
So what do you guys think – would you consider joining? Have you had any experiences with a flexcar program? If you joined, how do you think you might use them? Let us know what you think in the comments, and if anyone becomes a member, let me know how it goes.
Return to Blog
Categories:
Technology
,
Transit Benefits