September 18, 2013
Eads Bridge Rehabilitation, Real Time MetroBus Arrival Data, Downtown St. Louis Transit Center, New MetroBus Fareboxes, and North County Transit Center.  Through regular blog updates, we are going to start bringing you– our customers, our stakeholders, our employees, and the St. Louis region– up to speed on what we are doing to build a better transit experience. We are working hard every day on many projects throughout the agency and it's important that you know what's happening behind the scenes relating to Metro operations as well as the current status of capital projects.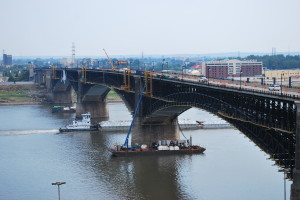 Eads Bridge Rehabilitation— In May 2012, the project kicked off with the focus being on the westbound tracks and north side of the historic bridge. The westbound tracks were removed and crews have been blasting off the old paint, priming and applying new paint so the bridge will last another 50 years. Although St. Louis Bridge  Construction Company lost 60 days of work on the project due to flooding on the Mississippi River, the crews are making up for lost time. Soon, structural steel work on the bridge will begin and then next May, we will hit a major milestone in the project when the work will switch to the eastbound side of the bridge. The project is scheduled to be completed in fall 2015.
Downtown St. Louis Transit Center— The design contract for the new Downtown St. Louis Transit Center has been awarded to Arturis. When the design of the new transit center to be located at 14th and Clark is completed next spring, the call for bids for construction will go out and construction could begin by fall of next year. It should take about 18 months to build the new transfer center.
New Fareboxes—The installation of new fareboxes on full MetroBus fleet is right on schedule with about 13 fareboxes being installed per shift. The installation started on MetroBus vehicles out of the DeBaliviere facility on September 4, moved to the Illinois MetroBus facility and then will conclude with MetroBus vehicles at the Brentwood facility. The new fareboxes should be on all MetroBus vehicles by October 6. Reminder: pennies will no longer be accepted at MetroBus fareboxes in October. Also, two dollar bills and fifty cent pieces are not accepted for fare.
Automatic Vehicle Locator (AVL) Real Time Arrival Data— Customers are now able to get real time arrival data on the Metro website from MetroBus vehicles which have AVL installed on them. Eventually, all MetroBus vehicles will be AVL equipped. The move paves the way for a phone application where you will be able to put in your bus stop number in your cell phone to find out how long it will be before the bus arrives.
North County Transit Center— A new transit center is planned in North St. Louis County on Pershall Road west of the Interstate 270 and New Halls Ferry Road interchange.  Design work is just getting underway on plans to transform an old auto dealership building on the site into a building that provides a nice climate controlled waiting area for MetroBus customers and will meet other Metro office and dispatch needs.  A second phase of the project will involve building a bus facility to house and maintain MetroBus and Metro Call‑A‑Ride vehicles. Phase I of the project is fully funded with federal monies.  Funding efforts for Phase II of the project are underway.
Return to Blog
Categories:
Capital Projects
,
Construction
,
Metro Lifestyle