July 10, 2014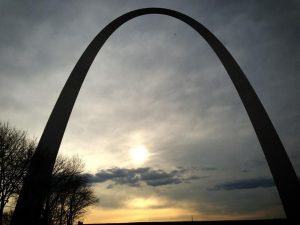 Allow extra time if you are planning a trip to the Gateway Arch or other downtown St. Louis destinations this weekend. Interstate 44 will be closed downtown so you may want to consider parking the car and taking Metro instead.
Starting at 8 p.m. this Friday night,  the Missouri Department of Transportation (MoDOT) plans to shut down a section of Interstate 44 between the Poplar Street Bridge and Broadway to accommodate crews placing girders over the interstate for the 2015 CityArchRiver Park Over the Highway project. The interstate is expected to reopen by 5 a.m. on Monday (July 14.) MoDOT says detour routes will be in place. That information is on the Gateway Arch website.
The ramp from downtown to eastbound Poplar Street Bridge will stay open during the weekend interstate closure. However, the ramp from westbound I-44 to the eastbound Poplar Street Bridge lanes will remain closed until before morning rush on Friday, July 18.
If you are going up in the Gateway Arch or on a riverboat cruise Saturday or Sunday, you can avoid the detour and take MetroLink to the Arch-Laclede's Landing MetroLink Station or the #99 Downtown Trolley MetroBus route to get to the Arch grounds.  Whether you take transit or drive yourself, just remember to allow extra time for your visit to the Arch grounds and St. Louis Riverfront this weekend.
In addition to the Interstate 44 closure downtown, the Eads Bridge will also be closed from 8 p.m. Friday night to 5 a.m. Monday (July 14) to allow interstate detoured traffic to move more smoothly.
To plan your trip to downtown St. Louis on Metro, use our Trip Planner tool.
Return to Blog