August 17, 2010
WalkScore Introduces TransitScore and Commute Reports for St. Louis
Return to Blog
We get these questions often: What is the best area in St. Louis for transit accessibility?  What is the transit access like for a particular neighborhood?
Now, the folks at WalkScore, a website devoted to walkability (ability to walk to most or many personal amenities), have introduced TransitScore and Commuter Reports as a way to encourage and promote walking and transit use across the U.S.
WalkScore provides a feature for business, residents, real-estate brokers and others to advertise the "walkability" of an address through a "WalkScore" on a scale of 0 to 100.  Now, thanks in part to the efforts of their sister website City-Go-Round.org in encouraging transit agencies to provide open transit data, Walkscore is able to provide addresses with a TransitScore and Commuter Reports.  Metro St. Louis was one of the first transit agencies to publish open-source data based on the efforts of City-Go-Round, and now they have made information available for more than 100 transit agencies.  Here is the TransitScore and map for Blueberry Hill Restaurant in University City, MO: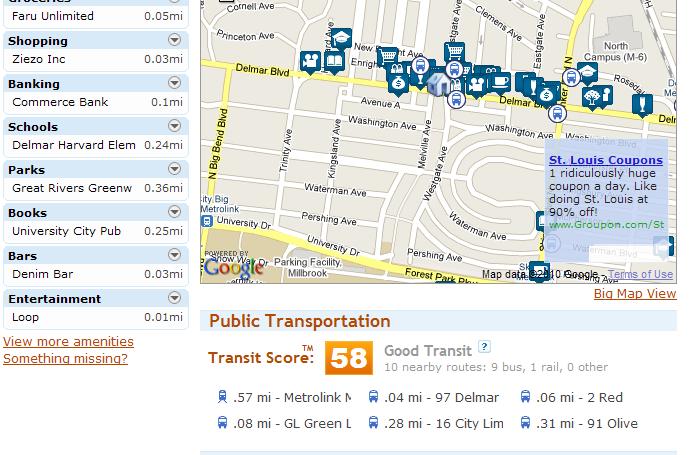 Users can enter any address to find out its proximity to many amenities, including restaurants, bars, parks, schools and banks.  Now, TransitScore provides information an address' nearby train and bus routes.
WalkScore also allows users to access to the Public Transit API (applications programming interface) to:
Add TransitScore to website in form of embedded badges
Show transit stops on a map of address
Show details about nearby transit route
Businesses, real estate companies or other destinations can then use the information to tout the walkability and transit access of an address, and allows users to compare addresses for walking and transit options.
In addition, WalkScore also provides a Commuter Report, which provides the information for traveling from one destination to another by walking, biking, transit or car.
The report includes information about the area such as housing and transportation costs.
While WalkScore does have some missing features, it is a tremendous tool for those seeking to advertise or find out the walking and transit amenities and options available in an area.  For another review of this new feature — and thank you for directing us to this development — please check out the St. Louis blog Exquisite Struggle.
Return to Blog
Categories:
Technology
,
Transit Benefits