October 26, 2011
Watch Rampage on KTVI & Wear Rams Gear at These Transit Centers to Win Free Tickets to Oct. 30 Game
Return to Blog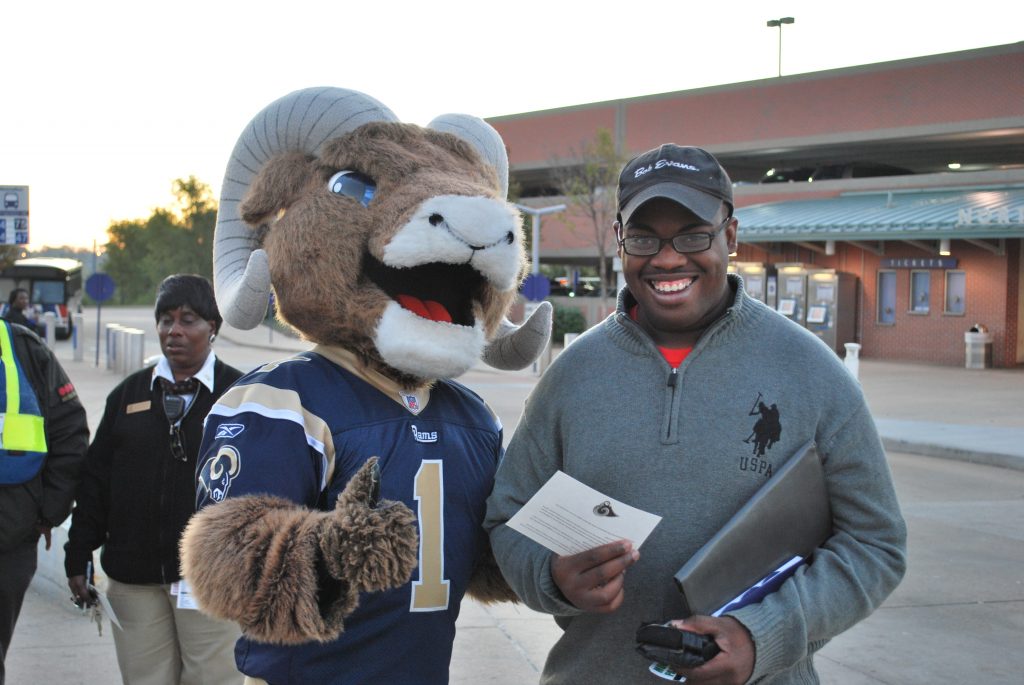 Rampage, the St. Louis Rams mascot, will visit KTVI Fox 2 tomorrow morning (October 27) at 7 a.m. for an in-studio appearance with Randi Naughton to promote Green Week and Rampage's visit to Metro Transit Centers this week.
The Rams' mascot will visit more Metro Transit Centers this week to sign autographs and give away a free pair of tickets to the first Metro riders he finds wearing Rams gear. Here is Rampage's schedule for the rest of the week:
Thursday, Oct. 27  7:30-8:30 a.m.   Shrewsbury-Lansdowne I-44 MetroLink Station
7201 Lansdowne Avenue, St. Louis, MO  63119
Thursday, Oct. 27  4-5 p.m.   Riverview MetroBus Center
Riverview Drive at Hall Street, St. Louis, MO  63137
Friday, Oct. 28  1-2 p.m.  Civic Center Transit Center
14th and Spruce, St. Louis, MO 63103
In addition to encouraging football fans to take public transit to Rams games, Metro will participate in the St. Louis Rams Green Expo event in Baer Park across from the Edward Jones Dome on this Sunday, October 30. At the event, the Rams will give away recyclable Rams tote bags to the first 500 fans. Tomorrow, the Rams team will provide electronics recycling at their training center in Earth City 8 a.m. to 1 p.m., where fans can bring anything with a cord to be recycled. There is a two TV limit per vehicle. Go Rams, and go green!
Return to Blog
Categories:
Metro Lifestyle
,
Transit Benefits