January 7, 2021
Wear a Mask on Metro Transit & Help Protect Your Community
Return to Blog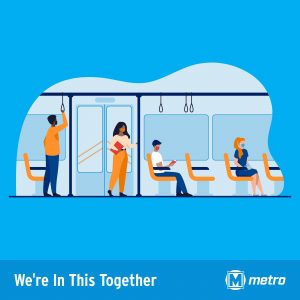 A helpful reminder for riders as we start the new year: to help protect transit riders and Metro Transit team members from the spread of coronavirus, you are required to wear a face covering on MetroLink platforms, at Metro Transit Centers, when riding on MetroLink, MetroBus and Metro Call‑A‑Ride vehicles or waiting for your bus.
Face coverings need to fit over your nose and mouth, and non-medical masks, scarves, handkerchiefs, bandanas and other types of cloth coverings are permitted. This policy does not apply to children ages 2 and under, and customers who have trouble breathing, are incapacitated or are unable to remove the cover without assistance.
A guide for making your own face covering can be found here.
If you are not wearing a face covering, you will not be permitted to board MetroBus, MetroLink or Metro Call‑A‑Ride vehicles. The requirement to wear face coverings on public transit follows recommendations from the Centers for Disease Control and state and local officials to follow official public health guidelines.
Metro Transit is a part of the American Public Transportation Association (APTA) Health & Safety Commitments Program, an overarching pledge to passengers that we are taking all necessary measures to operate safely – so you can remain confident that you will have a safe, comfortable and convenient commute on Metro Transit. A key component of this program is the shared responsibility of Metro Transit and our riders to keep the community safe, including wearing a face covering.
Metro Transit will continue to closely monitor operations, and will make any necessary adjustments to support the health and safety of transit operators and riders during the COVID-19 crisis. Transit riders who have questions or require assistance are encouraged to call Metro Transit Information at 314.231.2345 or to text 314.207.9786, Monday through Friday from 7 a.m. to 6 p.m.
This requirement began on Monday, May 11. Stay informed on the latest updates at metrostlouis.org/health.
Return to Blog