February 26, 2015
Weekend Construction to Make Way for Leading-Edge Technology
Return to Blog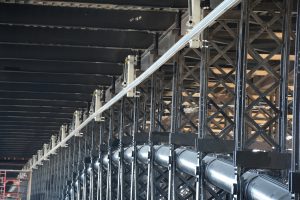 MetroLink trains will not operate between the 5th & Missouri and Stadium stations this weekend (Saturday, Feb. 28 and Sunday, March 1) to allow crews to install new overhead conductor rail (OCR) on that section of the alignment.
Overhead conductor rail requires less maintenance than the overhead catenary system (OCS), which currently makes up the majority of our power infrastructure for MetroLink. With OCR, the wires that power the train are completely supported by a conductor rail, which provides more consistent contact between the train and its power supply. With OCS, tension needs to be applied to support the wires properly, and the amount of tension needs regular monitoring and modification as the temperature changes (e.g., high temperatures cause the wire to expand and low temperatures cause the wire to contract, requiring more or less tension.)
OCR was developed to be used in tunnels and bridges where there is limited space, and with less components than the catenary system, it's easier and less costly to maintain and repair. We've already installed OCR on the rehabilitated Eads Bridge and will be adding it to the MetroLink tunnels in downtown St. Louis this weekend. Metro is believed to be only the second transit system in the nation to use this leading-edge technology.
To accommodate the installation, MetroLink Station Shuttles will transport riders between the 5th & Missouri and Stadium MetroLink Stations by bus. Passengers traveling through this area should expect delays of 20 to 30 minutes.
Metro will provide service to MetroLink customers via MetroLink Station Shuttle buses at the following stations on Feb. 28 and March 1:
5th & Missouri MetroLink Station
East Riverfront MetroLink Station
Laclede's Landing MetroLink Station (due to construction near this station, the bus shuttles will stop at Washington & Memorial)
Convention Center MetroLink Station
8th & Pine MetroLink Station
Stadium MetroLink Station
Metro personnel will assist and direct customers to the designated MetroLink Station Shuttle areas at the affected stations.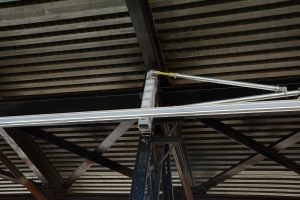 MetroLink trains operating between the Stadium Station and Lambert Airport Terminal 1 Station and between the Stadium Station and Shrewsbury-Lansdowne I-44 Station will be on a 20-minute service schedule. Trains operating between the 5th & Missouri Station and the Shiloh-Scott Station will also run every 20 minutes on Feb. 28 and March 1. MetroLink will resume normal service between the 5th & Missouri and Stadium Stations on Monday, March 2.
Also this weekend, local firefighters and first responders will take part in training exercises along the MetroLink system this weekend. Smoke machines will be used to help simulate emergency scenarios inside the downtown MetroLink tunnel between the Convention Center and 8th & Pine MetroLink Stations. During the planned training event, the public may see smoke coming from MetroLink station entrances and may see emergency responders in the area. There is no need for concern. The smoke will be part of the training exercise.
Return to Blog
Categories:
Construction