August 5, 2010
"Weighing" In on an Unexpected Benefit of Taking Transit
Return to Blog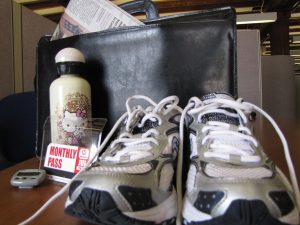 This week, USA Today and KSDK-St. Louis reported that Missouri joins eight other states – Alabama, Arkansas, Kentucky, Louisiana, Mississippi, Oklahoma, Tennessee and West Virginia – where more than 30 percent of the adult population (21 and older) is obese.  According to the articles, in 2007 only three states had more than 30 percent obese;  in 2000, no states had rates that high.  Now, more than 75 million adult Americans — 1 in 4 — are officially obese.
According to the Centers for Disease Control and Prevention (CDC), the varying reasons for higher obesity rates are complex, but include increases in meal portion size, the unavailability of fresh fruits and vegetables, the change in people's cooking and eating habits, and the prevalence of too many high sugar and fat options.  But the CDC also mentioned the roles that environment and transportation play, citing that:
Many communities are built in ways that make it difficult or unsafe to be physically active.
Access to parks and recreation centers may be difficult or lacking and public transportation may not available.
Safe routes for walking or biking to school, work, or play may not exist.
People do not always associate transit use or the availability of public transit as a public health benefit, but anyone who regularly uses transit can tell you that they spend more time walking as they travel to and from stations and stops. 
Indeed, a study in Charlotte, N.C., took a look at the effect of taking transit on individuals' weight. The study, recently published in the American Journal for Preventative Medicine, revealed that a year after a light-rail system opened in Charlotte, commuters who took light rail to work regularly were 6.45 pounds lighter than the folks who drove:
Factoring in the walk to the bus stop, the walk from the bus stop to the rail stop, and then the walk to work and back,  "It could add an extra mile a day [of walking] for the average rider. Over the course of year, that mile a day will translate into substantial loss of weight," says John M. MacDonald who co-authored the study.
For people who do not have regular access to gyms or recreational activity, transit may be one of their most consistent forms of daily exercise. For those considering taking transit, exercise can be an additional benefit.
Do you take transit for exercise? Do you feel you get an added benefit to your health by walking to and from transit? Do you pair biking with transit use? Have you lost weight or improved your physical health by leaving the car and taking transit?
Return to Blog
Categories:
Metro Lifestyle