May 4, 2011
Welcome to the Art Bus Fleet, Maplewood Richmond Heights Elementary's Seed to Table Garden Program Bus!
Return to Blog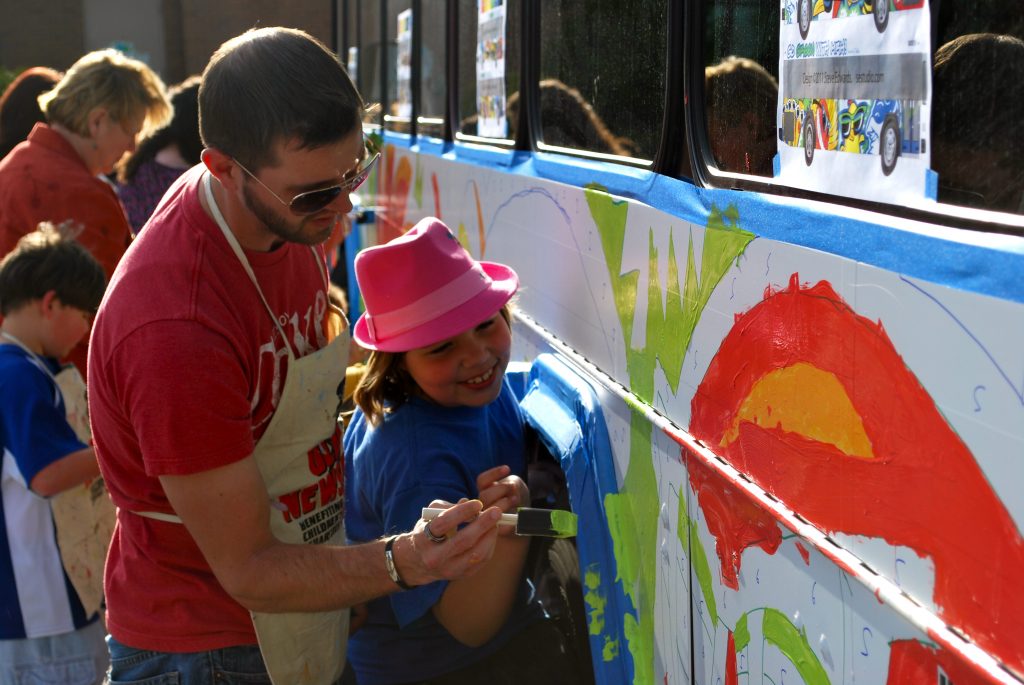 Last Friday night, students, parents, families, and teachers gathered at Maplewood Richmond Heights (MRH) Elementary School to paint a new MetroBus in bright colors and decked out with school pride while enjoying dance, music and other activities. Art teacher Sally Saldana organized the Arts Festival at MRH Elementary.  "It is important because it gives the students a chance to experience the different arts, especially the types of art they can't experience during school," said Saldana.
Saldana said she is always looking for new and exciting ways to keep the students interested and they had never painted a MetroBus before. They did Friday night as part of Metro's Art Bus Fleet Program. The mural designs that students painted each side of  the MetroBus were created by local artist Steve Edwards.  "Preschoolers, grade schoolers, high schoolers, teachers and parents can have wildly different tastes. I wanted to create a mural that appeals to all of those groups at once, and that introduces viewers to the Seed to Table project," Edwards said.
Click here if you cannot view the slideshow.
The Seed to Table Garden Program is a Maplewood Richmond Heights School District project that helps students learn from the natural world around them. It educates students on nature, organic gardening, and nutrition so they can make informed decisions about their own health, the health of the community and the health of the planet.
Edwards' bold, colorful mural designs feature enormous cartoon symbols of the Seed to Table flora and fauna which include vegetables, chickens, a honeybee, a sunflower, and a giant profile of MRH's sports mascot, Jax.
Edwards drew an outline of each mural on the bus and students were given a cup of paint that matched a number on the mural. In what seemed like the blink of an eye, the MetroBus became a metal canvas of color.
The MetroBus will travel on various routes around the area and the murals will remain on the bus for one year.
The Art Bus Fleet is a Metro community partnership program. The program offers a unique opportunity for community organizations to work with local artists to design and create rolling works of art. These artists are commissioned by Metro's Arts in Transit Program, and are paid for their creative talents to lead a participatory painting activity that brings joy to children and adults alike.
Welcome to the Art Bus Fleet, Maplewood Richmond Heights Elementary bus!
Return to Blog
Categories:
Metro Lifestyle