January 16, 2014
What Happens To Retired Wooden Ties on the MetroLink System?
Return to Blog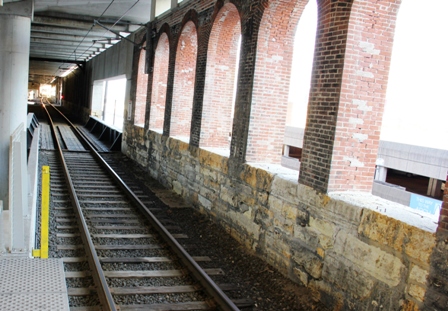 We received a tweet from a Metro transit customer asking how old wooden MetroLink rail ties are disposed of — "Recycled/reconditioned? For wood chips? Burned?"
The Bi-State Development Agency's Lean and Green Team decided to find out. Here's what the MetroLink team told us:
Ties are handled in a few different ways after they have outlived their usefulness.
1. Ties that aren't safe for 55 mph track or high-speed track can be utilized in small business industry tracks that have an operating speed of 5 or 10 mph on their tracks. Older ties can still be useful for this purpose for possibly up to another 10 to 15 years.
2. Ties that are deteriorated and rotten and have no usefulness can be taken to a landfill and disposed of properly. These ties can't be composted due to the chemicals in them.
3. There is some new age technology out there in a few locations around the nation where power plants grind up the ties and use them as an alternative fuel to create power.
Currently, more than 75 percent of Metro's old ties are being recycled via reuse in small business industry tracks — not a bad percentage!
There are approximately 90,000 wood ties on the MetroLink system and we are replacing all the wood ties that have been on the system since MetroLink opened in 1993. The replacement process will take 10 to 12 years to complete.
Return to Blog