July 19, 2010
Bus routes have personalities.  Seriously.  Ask a frequent bus transit rider what their favorite route is and chances are they will have an answer. Bus routes often take on the characteristics of the people and the neighborhoods they serve.  Sometimes the length of the route, the frequency of service, time of day and even the size of the bus affect the experience of riding one route versus another.  Sometimes it's just a gut feeling, the scenery of the route, or the collection of riders you encounter on a regular basis. Maybe it's a warm and memorable operator, or that your favorite coffee shop has a stop right out front.
On Aug. 30, Metro will start its second phase of bus service restoration. The details of the changes will begin online next week. Some routes will stay the same, some will change, and some will be brand new to Metro and to opassengers. Hopefully, some of these will become new favorites for our riders.
What is your favorite bus route? Why makes it unique to you? Please give us your answer and we'll put together a collection of your favorite routes for a future post.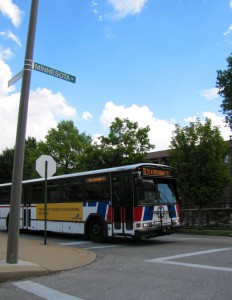 Return to Blog