June 20, 2013
Where's Tony Transit? Tony Hops on MetroLink to Give Away $50 Visa Cards Today
Return to Blog
Free money… That phrase always has a nice ring to it.
While you can save gas money each and every day by taking Metro transit instead of driving to work, "Tony Transit" Patrico of KPNT 105.7 FM The Point will literally be giving away $50 Visa gift cards and other prizes again today (June 20) when he rides MetroLink. The gift cards are courtesy of Citizens for Modern Transit (CMT). He's calling his celebration "Where's Tony Transit?"
Riding MetroLink between 4 p.m. and 6:30 p.m., Patrico will turn 'rush hour' into 'happy hour' for some passengers who are Twitter-savvy enough to spot him during his trip.
Here is how it works:
1. Follow Tony Patrico on Twitter at @PatricoWAR and listen to Tony mornings on 105.7 to find out where he will be boarding MetroLink.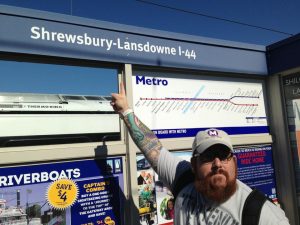 2. Once he boards, follow @PatricoWAR on Twitter and find Tony Transit on the train. If you are the first one to show him his latest 'transit' tweet, he will present you with a Visa gift card or another prize.
3. Sit back and enjoy your ride home on public transit!
Tony Transit will hop onboard MetroLink one more time this month – next Thursday (June 20) on National Dump the Pump Day. That day, Metro also will join Patrico, CMT, American Public Transportation Association (APTA), transit agencies, environmental groups and others across the country to celebrate the 8th Annual National Dump the Pump Day. Find out how much money you could be saving on gas by taking transit.
Return to Blog