November 13, 2014
'WINSday' Giveaways A Nice Surprise for Lucky MetroBus Riders
Return to Blog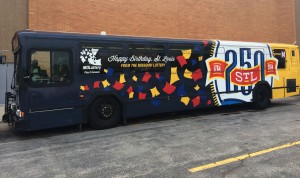 You might say the last few months have been quite lucky for some Metro customers who boarded a specially-wrapped MetroBus vehicle. They each received a special gift in honor of a big birthday milestone.
To celebrate the City of St. Louis' 250th birthday, STL250 teamed up with the Missouri Lottery and Metro to surprise MetroBus passengers with special lottery coupons. Passengers 18 and older, who found themselves riding on the special STL250/Missouri Lottery MetroBus vehicle at the right time on a Wednesday (WINSday) in August, September, October and November received a coupon. That coupon could be redeemed for one free lottery ticket at authorized lottery retail businesses.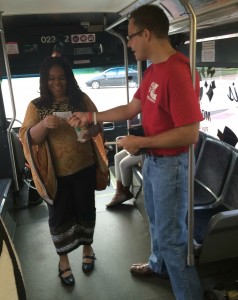 In order to make the WINSday giveaway a fun, birthday surprise for MetroBus passengers, the selected route was never announced in advance each month. However, we did provide clues to help passengers narrow down which route the specially decorated bus was traveling on.
Metro riders on the special bus were surprised  in August on the #91 Olive MetroBus route, in September on the #97 Delmar route, in October on the #94 Page route, and yesterday on the #95 Kingshighway route.
Thanks to STL250 and the Missouri Lottery for turning WINSday into a fun way to celebrate St. Louis' milestone birthday.
Return to Blog