December 21, 2022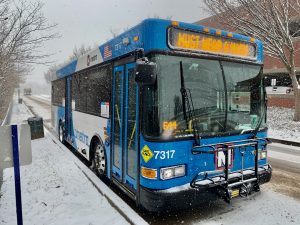 A winter storm has brought snow, gusting winds and dangerous low temperatures to the St. Louis region, with extreme cold forecasted through Saturday, December 24.
We will provide updates on this page if there are any changes to Metro Transit service due to the winter weather. We encourage all riders who must travel to check this page for updates on MetroLink, MetroBus and Metro Call‑A‑Ride service before starting their commute. Customers should expect delays and dress for being outside in the extreme cold temperatures and plan accordingly.
MetroLink
12/25 | MetroLink is operating on schedule without any weather-related delays.
As temperatures continue to fall, riders are encouraged to dress in warm, weather-appropriate clothing and use the platform heaters to help stay warm while waiting for their train.
Note: On Saturday and Sunday, MetroLink will operate single-car trains. Customers will need to board and exit the single-car train at the end of the platform where the operator cabin is located.
MetroBus
12/25 | MetroBus is operating on schedule without any weather-related delays.
All MetroBus riders will need to use the rear door when boarding and exiting their bus, unless the wheelchair access at the front is needed, to help retain heat on the buses during these extreme cold temperatures. MetroBus riders are encouraged to plan ahead, dress warm and allow extra time for their commutes. To minimize waiting times at bus stops, riders are also encouraged to use the Transit app to check on the real-time status and location of their bus.
Metro Call‑A‑Ride
12/25 | Metro Call‑A‑Ride will contact passengers directly if their trip may be affected or delayed.
To check on the status of a Metro Call‑A‑Ride trip, please contact Customer Service at 314.289.5230.
Warming Centers
There are several warming centers available throughout the St. Louis region if you are in need of assistance. Below is a list of warming centers that are accessible by Metro Transit. For a full list of all available regional warming centers, as well as other resources and information, please call 211 or visit the United Way 211 website.
City of St. Louis Warming Centers
St. Patrick Center | 800 N. Tucker Blvd. | 8 a.m. – 4 p.m. | #97 Delmar
Biddle House Opportunity Center | 1212 N. 13th St. | 8 a.m. – 4 p.m. | #19 St. Louis Ave.
Grand Oak Hill Community Corporation | 4168 Juniata Street | 9 a.m. – 4 p.m. | #30 Arsenal
Southside Senior Citizens Center | 3017 Park Avenue | 7 a.m. – 5 p.m. | #11 Chippewa, #70 Grand
Covenant House Missouri | 2727 North Kingshighway | 3 p.m. – 6 p.m. | #95 Kingshighway
Northside Youth and Senior Service Center | 4120 Maffitt Ave. | 8:30 a.m. – 5 p.m. | #19 St. Louis Ave.
Salvation Army – Euclid Corps | 2618 N. Euclid | 8:30 a.m. – 4 p.m. | #95 Kingshighway
Five Star Senior Center | 2832 Arsenal Street | 8 a.m. – 6 p.m. | #10 Gravois-Lindell, #30 Arsenal
Salvation Army – Temple Corps | 2740 Arsenal | 9 a.m. – 4 p.m. | #10 Gravois-Lindell, #30 Arsenal
Metropolitan Senior Citizens Corporation, Inc. | 5602 Arsenal | 8:30 a.m. – 2:30 p.m. | #30 Arsenal
Depression Bipolar Support Alliance of St. Louis | 907 Dock Street | 9 a.m. – 3 p.m. | #40 N. Broadway
St. Louis County Warming Centers
The Salvation Army Family Haven | 10740 Page | Open 24/7 | #49 Lindbergh, #94 Page
Aging Ahead Crown Center Senior Resource Center | 8348 Delcrest Drive | 9 a.m. – 3 p.m. | #33 Midland
Aging Ahead South County Senior Center | 225 Lemay Ferry | 9 a.m. – 3 p.m. | #73 Carondelet
Aging Ahead Ferguson Senior Center | 1050 Smith Ave. | 9 a.m. – 3 p.m. | #61 Chambers, #74 Florissant
Salvation Army – Maplewood Corps | 7701 Rannells Ave. | 9 a.m. – 4 p.m. | #31 Chouteau, Maplewood-Manchester MetroLink Station
Aging Ahead Covenant House Senior Center | 8 Millstone Campus | 9 a.m. – 2 p.m. | #49 Lindbergh
St. Clair County Warming Centers
ESL Family Center | 225 N. 9th St. | 5th & Missouri MetroLink Station
Fairmount City Library | 4444 Collinsville Rd. | #18 Collinsville – Madison County Transit
ESL Public Library | 5300 State St. | #1 Main St.-State St.
Washington Park City Hall | 5218 North Park Dr. | #9 Washington Park
Lessie Bates Davis Neighborhood House | 1200 N. 13th St. | Emerson Park MetroLink Station
Salvation Army St. Clair County, ESL Service Ctr. | 616 North 16th St. | Emerson Park MetroLink Station, #6 Rosemont
Cahokia Senior Nutrition Center | 190 Cahokia Park Dr. | #2 Cahokia
Cahokia Public Library District | 140 Cahokia Park Dr. | #2 Cahokia
Lessie Bates Davis Mary Brown Community Center | 606 N. 15th St. | #1 Main St.-State St.
Fairview Heights Public Library | 10017 Bunkum Rd. | #12 O'Fallon-Fairview Heights
Caseyville Township Office of General Assistance | 10001 Bunkum Rd. | #12 O'Fallon-Fairview Heights
SW Illinois College Program & Services for Older Persons Belleville | 201 N. Church St. | Belleville MetroLink Station, #1 Main St.-State St., #16 St. Clair Square
Belleville Public Library | 121 East Washington St. | #1 Main St.-State St., #16 St. Clair Square
Belleville Public Library West Branch | 3414 West Main St. | #1 Main St.-State St.
Salvation Army Belleville Corps | 20 Glory Place | #1 Main St.-State St.
O'Fallon Public Library | 120 Civic Plaza | #12 O'Fallon-Fairview Heights, #15 Belleville-Shiloh-O'Fallon
Return to Blog
Categories:
Weather