January 24, 2023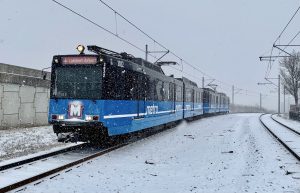 NOTE: The service updates below will be the final updates for the day, unless there are any significant changes to transit operations.
We will provide service updates on this page throughout today's winter weather. We encourage all riders who must travel to check this page for updates on MetroLink, MetroBus and Metro Call‑A‑Ride service before starting their commute. Customers should plan accordingly and allow extra time for potential delays, and dress for being outside in the elements.
Metro Transit Information is extending their hours to assist customers. Metro Transit Information is available today (Wednesday, January 25) from 5 a.m. to 7 p.m. at 314.207.9786 (text) or 314.231.2345 (phone).
The MetroStore will open late today at 10 a.m. due to weather conditions.
MetroLink
January 25 | 12:10 p.m. – MetroLink is operating on schedule without any weather-related delays.
MetroLink riders are encouraged to dress in warm weather-appropriate clothing and watch for slick spots while at MetroLink stations, Park-Ride lots and platforms. Riders can use the platform heaters to help stay warm while waiting for their train.
MetroBus
January 25 | 12:10 p.m. – Some MetroBus route are experiencing minor delays due to road conditions, but no significant weather-related delays at this time. 
There are no MetroBus routes operating on snow route.
To minimize waiting times at bus stops, MetroBus riders are encouraged to use the Transit app to check on the real-time location of their bus before heading to their stop.
Metro Call‑A‑Ride
Metro Call‑A‑Ride is contacting passengers directly if their trips may be delayed. Riders can call Customer Service at 314.289.5230 to check on the status of their Call‑A‑Ride trip.
Warming Centers
Warming centers help provide shelter from extreme weather conditions if you or your loved ones are in need.
The St. Louis County Warming Center is available 24 hours and is located at the Salvation Army Family Haven at 10740 Page Blvd., St. Louis, MO, 63132.
There are several other warming center options throughout the region:
Return to Blog
Categories:
Rider Alert
,
Weather