January 11, 2011
With an IPhone and Passionate Voice, Recent Grad Justin Chick Is Moving Transit Forward for St. Louis
Return to Blog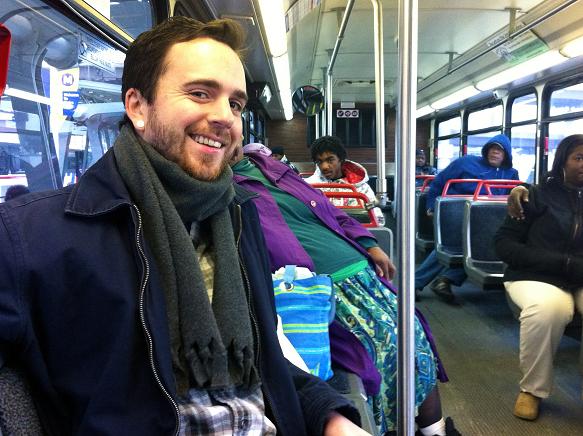 Based on media coverage and anecdotal reports, now is a tough time in U.S. history to graduate from college.  Recent graduates face high unemployment and burdening debt.  One could imagine that the storm of challenges facing these graduates could result in a wave of cynical detachment.  But while struggling to find their own paths, many recent graduates still insist on giving much back to community, with the tools at their disposal.  Justin Chick, 25, is one of those recent graduates, navigating job searches while using his access to information, free social technology and passionate interest to contribute to the St. Louis community.  And he does, from the seat of MetroLink or a MetroBus, armed with an iPhone, website, and a passionate voice for transit.
Chick moved to St. Louis from Williamsburg, Massachusetts several years ago to attend Webster University, graduating in December with a degree in Public Relations.  He has become one of the educational or employment transplants now passionate about the St. Louis community and encouraging its social, economic and artistic growth.  He says he prefers transit because it is "simple, effective, relaxing, and environmentally and socially conscience."
He is the Foursquare mayor of any given number of MetroLink stations.  He travels all over St. Louis on Metro, checking in and often documenting his adventures on his active Twitter account, @jaechick and website.  He attends transit public meetings, tweetups, blog discussions, and has plenty to say about being a self-described "transit nerd."
"To me it's more of a way of life than mode of transportation. Often I find there's emphasis placed on destinations rather than the mode in which we arrive. I believe those methods are just as if not more important than the destination itself.  Riding Metro allows me to practice that. What I spend my money, time, energy on matters because it impacts the world that I live in and city which I love," Chick says.
"Not to mention the sheer joy of getting to know other members of our community on transit, which under any other circumstances probably would not happen."
Chick's twitter account often details his adventures on transit: idiosyncratic tales of friendly characters and pictures taken along his routes.  But he also uses his social media prowess to document areas he believes need improvement in transit.  For that reason, Chick serves as a customer advocate, an eyes-on-the-ground point of view from riding transit.  Chick has been a tremendous asset to Metro, not only as a voice of support, but also through constructive criticism.  He shared his opinion on his top three ways to improve St. Louis transit:
1. Produce better signage in general.
"At bus stops, it would be great to have signs that not only tells you where the stop is, but also which buses come there, in which direction and when those buses will (or should) be at the stop. On bus head signs, improve consistency between destinations stated on bus with the distinctions stated elsewhere on transit timetables, maps, boarding platforms etc."
2.  Simplify fares.
"I can pay $2 to ride just one bus in one direction or $2.75 for unlimited travel on any bus or train. Or I can pay $2 to only ride the train in one direction for only 2 hours.  I always go with the 30 days unlimited because I know I'll use it all 30 day but also because it's simple, doesn't matter where or when or in what direction I'm going I know I can go there and Metro can get me there.
By keeping bus riding separate from train riding in the fare structure there becomes an undertone that they're different or that one is better than the other. They support each other," Chick said.
3. Increase community involvement.
"From maintaining the tweetups and casual gatherings to a bit more formal quarterly town hall type meetings the purpose will be the same: foster community. Transit riders care and love St. Louis.  They're the back bone of our city; get a bunch of them together and fantastic things start happening, I've seen it happen plenty of times."
Chick is hoping to stay in his adopted city, looking for work as a social media marketer, while "continuing to support transit and the St. Louis community."  The road is not entirely certain for these young graduates in the tough market, but Chick seems determined to make the most of it.  From his seat on the bus, he is helping guide transit in the right direction.
Return to Blog
Categories:
Metro Lifestyle