January 13, 2010
Would You Mind Turning That Down? I'm Trying to Ride Public Transit
Return to Blog
I'm sorry sir, but would you mind turning your music down?  I'm trying to ride transit here.
By definition, public transit is a common space, a place where people of all backgrounds come together to travel.  It's such a cross-section of ages and backgrounds brought together, sharing a space without directly interacting, that psychology researchers routinely use public transit to observe human behavior patterns. Transit riders travel together, but they usually aren't directly interacting with other. Of course, that changes when people are rude, disruptive or lack courtesy. We share a common rider experience, and a few bad apples can seriously ruin someone's trip.
Following in the example of New Jersey Transit and NYC's MTA, Metro has launched an ad campaign, "Respect Your Ride", on our MetroBuses and MetroLink station platforms and elevators to help remind people to be mindful of other riders and to curb undesirable behavior. The posters also include the phone number for Passenger Assistance in case riders want to report a problem.
It's difficult to govern other people's behavior, especially if they don't realize that they are being bad fellow riders.  But we can bring it to their attention.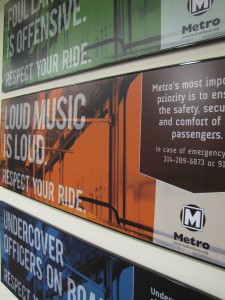 "Loud Music is Loud"
Sometimes its difficult to gauge this, but the rule of thumb for me is if other people can clearly hear what you are listening to, it is too loud. Even if you are listening with headphones. Not everyone is going to share your taste in music, and some people like to read and relax while riding. Or sleep. Or just not listen to your music.  The same goes for loud and obnoxious speaking aloud and on a cell phone.
"Foul Language is Offensive"
We all know foul language can be offensive. But curses words or choice phrases can seem aggressive and confrontational as well. No one wants to experience that from fellow riders. If it would make Grandma blush, its not appropriate to share on public transit. And if you are saying it aloud on transit, you are sharing it with everyone.
"Undercover Officers on Board"
This sign is to remind riders that Metro partners with St. Louis City and County to have undercover police presence on the system to deter illegal or disruptive activity.
"Public Urination is Illegal"
Saved the best for last. These signs will only hang in MetroLink elevators, where public urination has been a particular problem. The elevator not a private place to relieve onself; they are actually heavily monitored. In addition to the signs, every elevator has a camera linking back to our communications dispatch center, and have a speaker that security can engage to talk to the perpetrator. Public urination in elevators is a significant issue since individuals who cannot take the stairs must use the elevators to reach street level.
Another reason to focus on quality-of-life issues for riders is that it help make public transit more efficient. Problems like these direct resources for customer service, security, and maintenance away from other issues. Courteous behavior encourages more discretionary riders to take transit. It's a win-win for Metro and our riders.
As a transit user, I find my trips in St. Louis are mostly calm. During the peak times of the day, both MetroLink and MetroBus are fairly quiet. But we all have stories too. Jennifer mentioned that feet on her seat was a real pet peeve. @u2acro on Twitter said she hates it when people take up two seats with their bag/person when people are looking to sit down. Whatever your pet peeve, the ads will hopefully remind people that when you keep other riders in mind and act with respect and courtesy, you are a better public transit rider.  Will everyone listen?  No.  But we hope that many will.
Return to Blog
Categories:
Metro Lifestyle
,
Transit Benefits