A New Vision of Public Transit in the St. Louis Region
Project Update: A draft of a new transit plan is available for your review through May 4. We will be using feedback from riders and the public to make adjustments to the plan. Once a final version is approved this summer, we will roll out service improvements in phases over the next three years, with most implementation starting no sooner than 2019. Read below to learn more about Metro Reimagined and let us know what you think about the draft service plan.
What is Metro Reimagined?
The St. Louis region is constantly evolving. So are its transit needs. Last year, we launched Metro Reimagined project to make sure the Metro Transit system is able to meet those changing needs — today and in the future.
The project started with an in-depth study of the Metro system, and using this research along with customer feedback, we have developed a draft of a new transit service plan that is designed to give riders a stronger, faster and more accessible transit system.
Why do we need to change the system?
MetroBus ridership has been on the decline for the past several years, as is the case for most transit agencies across the country. While there are always a variety of factors that can impact this number, one thing is clear: the Metro Transit system, as it is today, could work better for the St. Louis region.
At a time when people have more travel options than ever, we need to change so we can provide riders with the experience they expect and with services that work for them. Our responsibility is to make it as easy, fast and convenient as possible for people to get where they need to go – and we need to adapt so we can do that job better.
What does the Metro Reimagined plan do?
The draft transit plan is designed to give riders a stronger, faster and more accessible transit system. Here's a quick look at some of its benefits:
► More frequent MetroBus service – twelve high-volume routes would be upgraded to at least 15-minute frequency, meaning they would arrive at bus stops every 15 minutes or better. Most other MetroBus routes would be upgraded to 30-minute frequency.
► Faster, more direct trips – the plan creates a simpler, easier-to-understand network designed to provide quicker commutes.
► New technology –  including a text-messaging service customers can use to directly contact Metro Public Safety or Transit Information, a personal safety app riders can use to instantly connect with police; an email/text subscription service for Rider Alerts and other transit news; and a new mobile ticketing option.
► New transportation options – for areas of the region where a 40-foot bus isn't the best way to move people, we are looking at new options to provide riders with better service options, including smaller vehicles, shuttles and on-demand transportation services.
Are you cutting my route?
Metro will continue to serve all areas of the St. Louis region – but the system will look different under the proposed plan. We are working hard to minimize the impact of these changes to our riders, but you may need to make adjustments to your commute.
However, with Metro Reimagined, you will have a faster, more reliable and more frequent transit system that will give you stronger service than what you enjoy today. And for the majority of riders, your trip should actually take less time overall under the proposed plan than it does now.
How does the plan address safety?
Metro will be introducing new technology to help riders feel safer and more secure while on the system. Today, riders can sign up for SafeTrek, a mobile personal safety app that notifies law enforcement of emergencies at the touch of a button. In addition, we will be launching a new text messaging service that riders can use to contact Metro Public Safety.
Our law enforcement partners have also increased their patrols and presence on the Metro system, and efforts are underway to have St. Clair County Sheriffs begin patrolling areas on the Missouri side of the river. These new technology tools, in combination with additional police presence on the system, are positive steps forward to give riders more security when traveling through the region.
What can I do?
Learn more about the new plan and tell us what you think. Check out the information below to learn more about the draft plan, or attend one of our public meetings in April to talk with transit planners and ask questions about Metro Reimagined. You can share your feedback in person or through our online survey. Your feedback will help us create the final version of the new transit service plan for the region.
The New Plan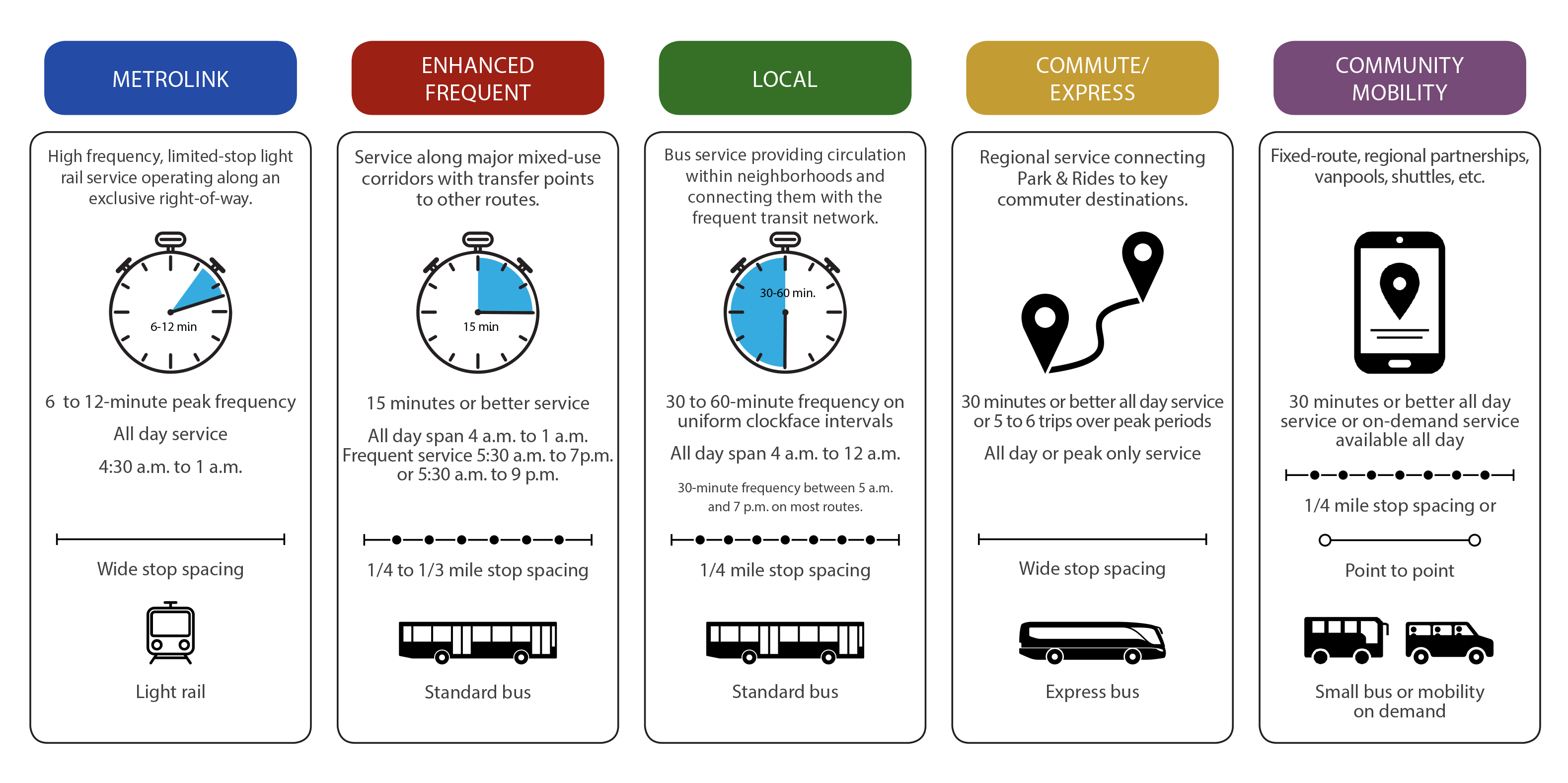 Use the key below and explore this map to learn more about the proposed transit plan and the new service options being considered.
► Enhanced Frequent: MetroBus routes with 15-minute or better service from morning to evening hours
► Local: 30-minute service from morning to evening hours on most MetroBus routes
► Commute Express: Regional service connecting Park & Ride lots to key employment destinations
► Community Mobility Zones: Service areas using smaller vehicles, vanpools or shuttles, or mobility on-demand options
Share Your Feedback
Let us know what you think about this new proposed service plan. You have two options:
2) Attend an Informational Meeting or Public Hearing
Speak with one of our transit planners, ask questions and share your feedback on the new plan at a Public Informational Meeting this April:
Informational Meetings
North Hanley Transit Center (4300 N. Hanley Road)
Tuesday, April 3 | 2:30 p.m. – 5:30 p.m.
Ballas Transit Center (790 S. New Ballas Road)
Wednesday, April 4 | 2:30 p.m. – 5:30 p.m.
North County Transit Center (3140 Pershall Road)
Thursday, April 5 | 2:30 p.m. – 5:30 p.m.
Thomas Dunn Learning Center (3113 Gasconade Street)
Tuesday, April 10 | 3 p.m. – 6 p.m.
Affton White-Rodgers Community Center (9801 MacKenzie Road)
Wednesday, April 11 | 3 p.m. – 6 p.m.
St. Louis Public Library – Central Library (1301 Olive)
Tuesday, April 17 | 4 p.m. – 7 p.m.
Public Hearings
St. Louis City Municipal Court (1520 Market)
Wednesday, April 18 | 11 a.m. – 2 p.m.
The Heights Community Center (8001 Dale Avenue)
Thursday, April 19 | 3 p.m. – 6 p.m.
View this presentation for more information about the Metro Reimagined study and the service planning process:
Overview
In July 2017, we launched Metro Reimagined — a full-scale, comprehensive analysis of the MetroBus system. It's a proactive look at the mobility needs of the region, which is helping us improve the customer experience and increase access to destinations throughout the area.
The focus is on our customers. Metro Reimagined not only looks at where people travel in the region, but why they travel and how they want to get there. The study also evaluates the potential of new technology and innovative transit concept, from new vehicles to new service options.
Our goal is to ensure that Metro remain a valuable transportation resource and a driver of economic growth and development for the region.
Questions?
Send us an email at reimagined@metrostlouis.org or call us 314-982-1480.