Help Take Care of Our Neighborhoods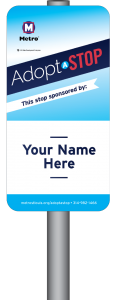 Adopt-A-Stop is a bus stop sponsorship program where businesses, organizations and individuals are invited to adopt neighborhood MetroBus stops. The goal of the program is to keep our bus stops – and the communities we serve – clean, attractive and free from litter.
In return for adopting a stop and volunteering your time to monitor and maintain it, you can have your name displayed on a special Adopt-A-Stop sign.
Serve Your Community
In addition to being recognized for serving your community, volunteering your time to adopt and take care of a neighborhood bus stop is a rewarding and easy way to show your civic pride and create a more pleasant transit experience for everybody in the St. Louis region.
Even better — it's free to adopt! There is no charge to participate in Adopt-A-Stop.
Help keep our neighborhoods beautiful.
Adopt-A-Stop today!

Email [email protected] or call 314-982-1466.
Our Commitment to Our Adopters
As a MetroBus stop adopter, you will:
Have your name displayed on an Adopt-A-Stop sign at your selected bus stop for the duration of the adoption
Work directly with a Metro staff member
Receive trash bags and other resources needed for the upkeep of the MetroBus stop
Your Commitment as an Adopter
Agree to the Adopt-A-Stop program terms and conditions for one year
Regularly monitor and maintain your adopted stop, keeping it free from litter
Review and sign required liability waivers
Return unused or reusable supplies to Metro if the adoption ends
To join Adopt-A-Stop, or to learn more about the program, call us at 314-982-1466.