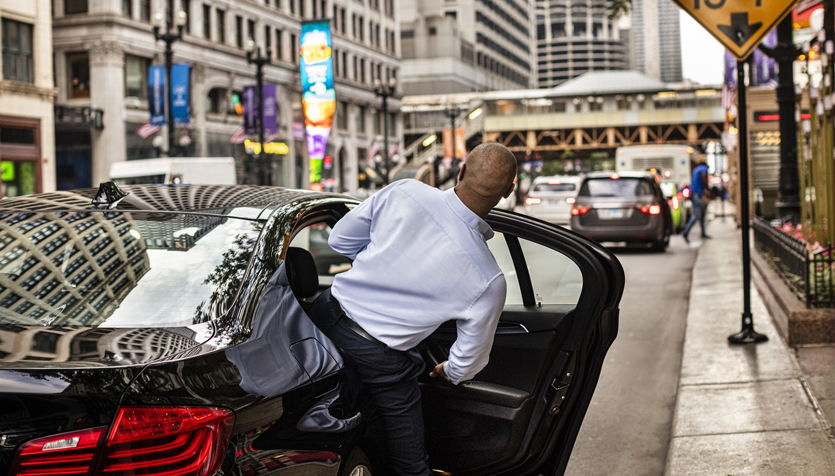 $1 Lyft Rides to Select Metro Transit Centers
Metro has partnered with Lyft on a new pilot program to make it easier for you to access the Metro Transit system. If you live in one of eight neighborhoods in the St. Louis region, you can ride Lyft to or from a nearby Metro Transit center or MetroBus stop for just $1.
To be eligible, you must start or end your $1 Lyft trip within 500 feet of selected streets in St. Louis County and the City of St. Louis (details below). These corridors were chosen for the pilot program based on customer feedback and because of their distance from current Metro transit options.
---
Promo Code: METROCONNECT19
Enter code METROCONNECT19 in the 'promos' section of the Lyft App, and the discount will automatically be applied on eligible trips. Call 314-231-2345, text 314-207-9786 or click the webchat icon at the bottom of this page for assistance.
---
Areas Eligible for Discounted $1 Lyft Trips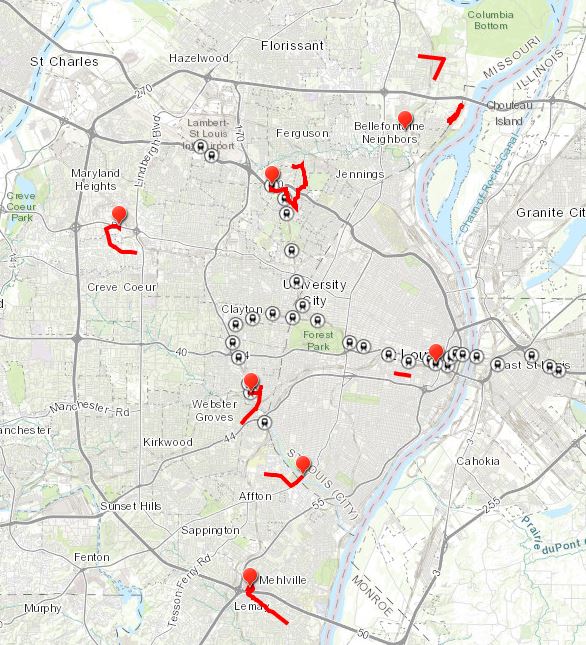 Trips eligible for the $1 Lyft rides must start or end within 500 feet of the streets selected below. Please contact Metro Transit Information if you need any help determining if your trip is eligible for the discount.
NORTHEAST ST. LOUIS COUNTY – Connections to #61 Chambers
Trampe Road, between Bellefontaine Road and Larimore Road
Larimore Road, between Trampe Road and Coal Bank Road
Lookaway Drive, to Shepley
Spring Garden Drive, between Shepley and Ben Nevis
NORTH ST. LOUIS COUNTY – Connections to North Hanley Transit Center
Woodstock Road, between S. Florissant and Bermuda
Bermuda Avenue, between Woodstock and Florissant Road
Florissant Road, between Bermuda and University Place
WEST ST. LOUIS COUNTY – Connections to #94 Page
Lackland Road, between Westport Center Drive and Schuetz
Schuetz Road, between Lackland and Guelbreth
MID-ST. LOUIS COUNTY – Connections to Sunnen MetroLink Station
Big Bend Boulevard, between Murdoch and W. Bruno Ave.
ST. LOUIS CITY – Connections to Civic Center Transit Center
Park Avenue, between Compton and Jefferson
SOUTH ST. LOUIS COUNTY – Connections to Hampton-Gravois Transit Center
Heege Road, between Laclede Station Road and Gravois
SOUTH ST. LOUIS COUNTY – Connections to Multiple Bus Options at South County Center
Forder Road, between Lemay Ferry and Telegraph
Pilot Program Details
$1 Lyft trips are only available to make connections between the selected areas and Metro Transit centers or MetroBus stops. You must have or purchase a valid fare to continue your trip on MetroLink or MetroBus.
If you don't have a smartphone or require a wheelchair-accessible vehicle, you can take advantage of the program by calling 314-231-2345 to have a Metro Transit specialist assist with scheduling your trip.
Customers can include up to three additional people with them on their discounted Lyft trip for the same $1 cost. Children 17 and under are welcome to join an adult on their Lyft trip, but are not permitted to ride alone in a Lyft vehicle.
The $1 Lyft trip program is made possible through a partnership between Metro Transit and Lyft. To offer this discount to transit users, Metro will cover the cost of eligible Lyft trips up to $12. If a customer schedules an eligible Lyft trip that exceeds $12, the customer is responsible for the remaining balance.
The pilot program is currently scheduled to run for three months through January 2020. During the program, Metro customers can use the discount code for a maximum of 40 Lyft trips per month.