Be a savvy Metro rider — use these transit tools to help you on your way.

The Official App of Metro Transit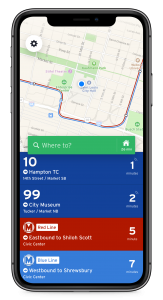 Plan your trip. Track your ride. Pay your fare.
Download Transit to put the power of the Metro Transit system at your fingertips. Easily access:
– Real-time bus locations and arrival times
– Notifications about rider alerts
– Route maps, next departure times, a list of stops, all in one place
– Trip planning, including a trip that combines Metro Transit with ride-sharing
– Purchase Metro Transit tickets
Download Transit today!
Check out the Transit 101 how-to guide to learn about all of the features you can access, and find out how easy it is to get information whenever you need it, from wherever you are.
Plan Your Via Metro STL Trip on Transit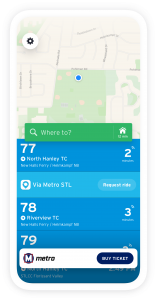 The Transit app has integrated with Via Metro STL on-demand transit service, making it even easier for you to travel throughout the region. When you enter a destination, Transit will suggest trip plans that feature Via Metro STL service, either for point-to-point trips or in combination with MetroLink and MetroBus options. With just one tap, you can seamlessly connect to Via Metro STL and request a ride. For more information on Via Metro STL, including service zones, costs and operating hours, visit metrostlouis.org/via.
---
Text Us! 
Metro Transit Information is available by text for transit questions or trip-planning assistance. Connect with one of our transit experts between 7 a.m. and 6 p.m., Monday through Friday, by texting 314.207.9786.
Metro Public Safety is available by text 24/7 to address any concerns or suspicious behavior. Connect with them directly any time of day by texting 314.300.0188. 
---
Real-Time Bus Information When You Need It
Wondering when a MetroBus will be pulling up to your stop? With a quick call or text, you can get real-time arrival times and transit information from anywhere, at any time.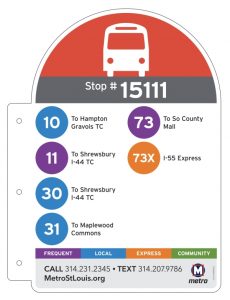 By Phone
Call Metro Transit Information at 314.231.2345 or 618.271.2345 and press 1 to use the automated system.
Enter your MetroBus Stop ID number, and the automated system will tell you the next three real-time arrival times for your MetroBus route at that stop. It will also let you check on any Rider Alerts impacting bus routes serving that stop.
Stop ID number can be found at the top of every MetroBus stop sign in the region.
New bus stop signs are currently being installed. If your bus stop sign is blue, you can find the Stop ID on the bottom left corner.
By Text Message (SMS)
Locate your Stop ID number on the MetroBus sign. The Stop ID number is the four or five-digit number located on the bottom left of the bus sign. Text your Stop ID number to 79322. After about a minute, you will receive the next three real-time arrival times for bus routes serving that stop.
If a route has an active Rider Alert, it will be noted with an asterisk and you can access a link to learn more.
For a bus stop that serves multiple MetroBus routes, you can choose a particular route by adding the route number to the end of the Stop ID number.
For example, the North Broadway Transit Center has Stop ID number 13487, and serves both the #70 Grand and #95 Kingshighway routes. If you only need the next three arrival times for the #70 Grand, simply text 13487-70 to receive trip information for that route. This feature works at any bus stop served by multiple routes.