Metro Transit Public Safety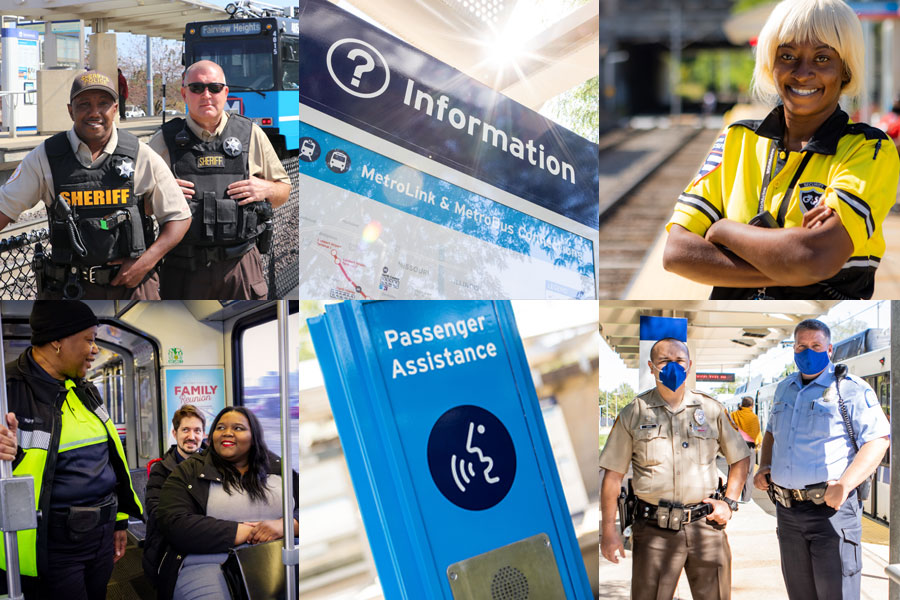 ---
See Something? Say Something.
Text 314-300-0188

|

Call 314-289-6873
Metro Public Safety is available 24/7 to address any of your concerns
---
Safety First | Customer Focused
Our goal is to help provide customers with a safe and comfortable ride on Metro Transit.
Working with our regional partners, we developed a comprehensive security program comprised of multiple elements and resources that provide a secure transit environment. This strategy is a standard for many transit and rail systems. To deliver this experience, our team and law enforcement partners are focused on three key areas:
Visibility: Our team is everywhere our customers are — on the light rail platforms, at transit centers, on board MetroBus vehicles and MetroLink trains. With new, high-visibility uniforms, they are easy to spot and are always ready to assist you.

Security Guards and Fare Inspectors assist passengers; patrol trains, MetroLink stations and transit centers; and enforce the rules of the Metro Transit system
Transit Security Specialists support security guards and Metro team members while patrolling the system, and they respond to requests for assistance and coordinate with law enforcement when needed
Law enforcement partners at St. Louis County Police Department, St. Louis Metropolitan Police Department, St. Clair County Sheriff's Department and St. Louis City Sheriff's Department provide a uniformed police presence on the transit system with both full-time and part-time officers and deputy sheriffs

Rule Enforcement: Whether it is loud music or an inappropriate smoker, nuisance behavior can create a negative experience for all riders. The team is strengthening enforcement of these rules of the system to ensure everyone is using Metro the right way and can enjoy a safe, comfortable commute.
Innovation and Infrastructure: Data analysis and technology that improves communication, surveillance and accountability are all important tools for our Public Safety team. All MetroLink platforms are monitored on closed circuit cameras – 24/7 – by dispatchers who can immediately call for security or law enforcement assistance when needed. Cameras also monitor Park-Ride lots, stairwells, parking facilities and trains, buses and vans. Metro is also using new infrastructure to create better monitored and secure access points to the transit system.
Law Enforcement Resources