Executive Director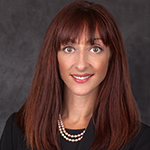 Jessica Mefford-Miller
Executive Director of Metro Transit
execdirector@metrostlouis.org
Click here to read her full bio.
Metro Leadership
Jeff Butler
General Manager – Metro Call-A-Ride Paratransit Operations
paratransit@metrostlouis.org
Darren Curry
Chief Mechanical Officer
mechanical@metrostlouis.org
Scott Grott
General Manager – MetroLink
metrolink@metrostlouis.org
Amy Parker
Director of ADA Services
adadirector@metrostlouis.org
Chris Poehler
Asst. Executive Director of Engineering Systems
engineering@metrostlouis.org
Charles Priscu
Director of Labor Relations
laborrelations@metrostlouis.org
Trenise Winters
General Manager – MetroBus
metrobus@metrostlouis.org
Richard Zott
Chief of Public Safety
publicsafety@metrostlouis.org
Metro Planning and System Development Department
planning@metrostlouis.org
Bi-State Development (BSD) is the operator of the Metro public transportation system for the St. Louis region. Click here for more information about the President & CEO of Bi-State Development and the Bi-State Development Board of Commissioners.