Transportation When You Need It
Metro Transit has partnered with Via to offer a new affordable, convenient transportation option to get around parts of West, South, and North St. Louis County: welcome to Via Metro STL!
Via Metro STL lets you hail a vehicle directly from your smartphone using the Via app, and travel to any location within the service zone during operating hours.
Riders are not restricted to having trips that connect to Metro Transit – you can use the Via Metro STL service to get from your home directly to the grocery store, or anywhere else in the relevant service area (see map below). Via Metro STL is a shared-ride service, and Via's advanced technology seamlessly matches passengers headed in the same direction to provide quick and efficient trips, without lengthy detours or inconvenient schedules.
Via Metro STL is now available on Transit, the official app of Metro Transit. When you enter a destination in Transit, it will suggest trip plans that feature Via Metro STL service, either for point-to-point trips or in combination with MetroLink and MetroBus options.
Book a ride using the Via app or call 636.251.3328.
---
How to Ride
Create an account. Download Via from the App Store or Google Play store and follow the simple sign-up steps. If you don't have a smartphone, please call 636.251.3328 to set up your ride.
Set up a payment method in the Via app.
Request a ride. Enter your pickup and drop-off addresses and choose the ride option that works for you.
Meet your driver. Check the app and walk a short distance to your pick-up spot.
Get where you need to go.
For more information, check out our How To Ride Guide or watch our test drive to see how easy riding Via Metro STL is!
If you need a wheelchair-accessible vehicle for your Via ride, be sure to toggle on the "Wheelchair Accessible" option in your account profile. If you need any assistance, please call 636.251.3328.
Fares: One Ride = $2
A single trip on Via Metro STL is just $2, allowing you to travel between two locations within a designated service zone.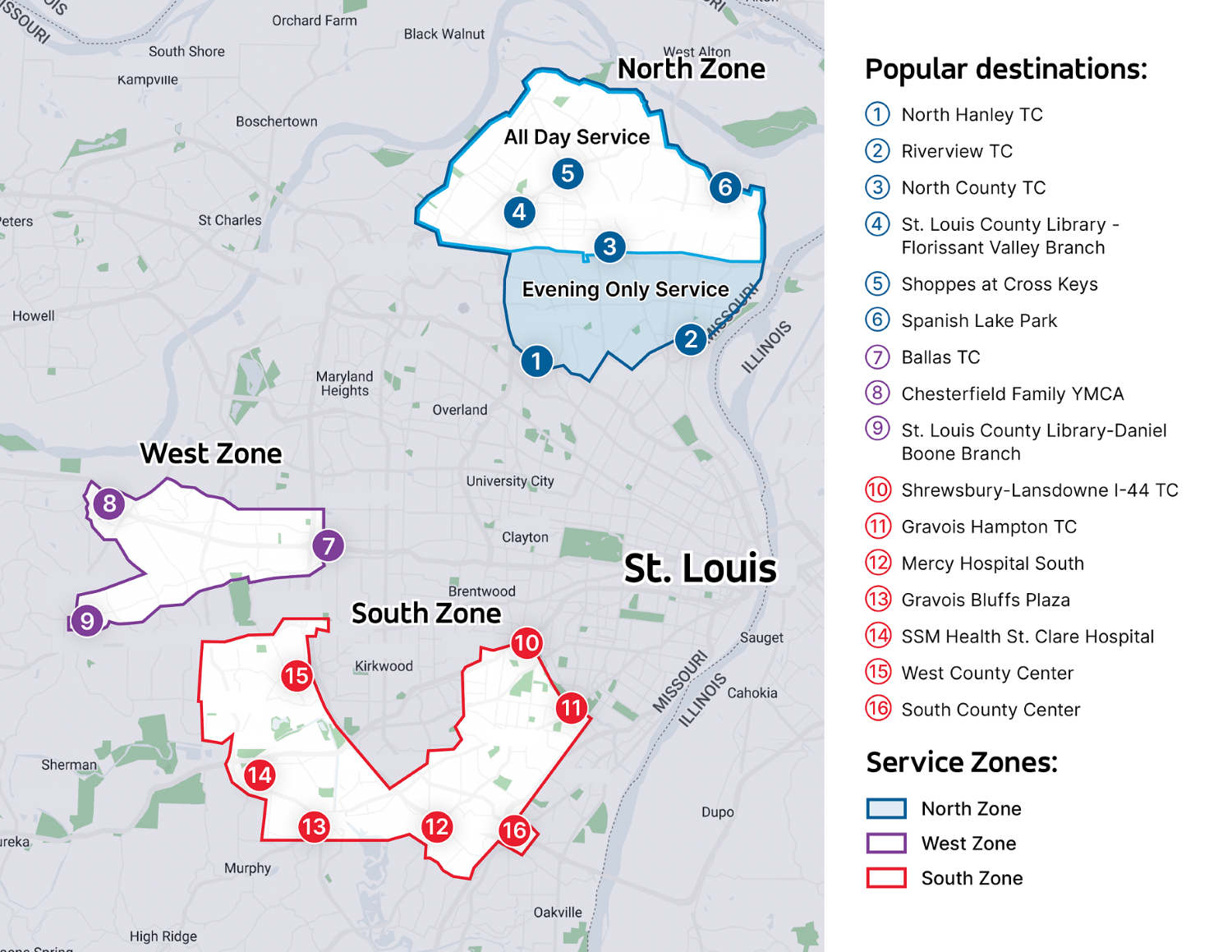 Service Areas:
Bringing Your Bike
Combining your commute with our area's network of trails and bike-friendly roads? Simply request two seats when booking your ride.
You can learn about bringing your bike on MetroBus and MetroLink here.