NEW: Plan Your Via Metro STL Trips with Transit!
Via Metro STL is now available on Transit, the official app of Metro Transit. When you enter a destination in Transit, it will suggest trip plans that feature Via Metro STL service, either for point-to-point trips or in combination with MetroLink and MetroBus options. With just one tap, you can seamlessly connect to Via Metro STL and request a ride from the Transit app.
Click here for more information on the Transit app.
---
Transit When You Need It
Metro Transit has partnered with Via to introduce a new on-demand transit service that offers you an affordable and convenient way to get around parts of South and North St. Louis County. Called Via Metro STL, this new service lets you hail a vehicle directly from your smartphone using the Via app, and travel to any location within the service area during operating hours.
Riders are not restricted to having trips connect to Metro Transit — you can use the Via Metro STL service to get from your home directly to the grocery store, or anywhere else in the service areas shown below. Via Metro STL is a shared-ride service, and Via's advanced technology seamlessly matches passengers headed in the same direction to provide quick and efficient trips, without lengthy detours or inconvenient schedules.
Book a ride using the Via app or call 636.251.3328.
---
Traveling in St. Clair County? St. Clair County Transit District has launched SCCTD VanGo, an on-demand transit option providing service to riders in Mascoutah and Lebanon, including the Shiloh-Scott MetroLink Station. More details below.
---
How to Ride
Create an account. Download Via from the App Store or Google Play store and follow the simple sign-up steps. If you don't have a smartphone, please call 636.251.3328 to set up your ride.
Set up a payment method in the Via app.
Request a ride. Enter your pickup and drop-off addresses and choose the ride option that works for you.
Meet your driver. Check the app and walk a short distance to your pick up spot.
Get where you need to go.
Masks are required for all Via Metro STL passengers and drivers.
If you need a wheelchair-accessible vehicle for your Via ride, be sure to toggle on the "Wheelchair Accessible" option in your account profile. If you need any assistance, please call 636.251.3328.
Check out our test drive to see how easy riding Via Metro STL is!
Fares: One Ride = $2
A single trip on Via Metro STL is just $2, which allows you to travel between any two locations within the service area.
Have a monthly or weekly Metro pass? Mark your payment method in Via Metro STL as "Metro STL Transit Ticket" and show your driver when you get in the car – there is no extra charge to ride.
Receive a discount when you combine Via Metro STL and Metro Transit:
Transfer from Via Metro STL to MetroBus/MetroLink: When requesting your ride, select the $3 transfer option on the Via app. You will receive a valid Two-Hour Transfer Pass in your Via app inbox or SMS text, which can be used on MetroBus or MetroLink by displaying your pass to the MetroBus operator or MetroLink fare inspector.
Transfer from MetroBus/MetroLink to Via Metro STL: Before scheduling your Via Metro STL trip, select 'Metro STL Transfer Ticket' in the Payment Methods page of the Via app. When you are boarding Via Metro STL, display your valid Metro Weekly Pass, Monthly Pass, or a Mobile Two-Hour Pass available on the Transit app, and enjoy your ride. Note: If you are transferring from MetroBus to Via Metro STL with a $1 one-ride ticket, you will need to pay the $2 standard price for your Via trip.
South St. Louis County – Fenton/Valley Park Area
Service is offered in this area seven days a week from 5 a.m. to 10 p.m. The Shrewsbury-Lansdowne I-44 MetroLink Station is also included in this service area for easy access to the Metro system.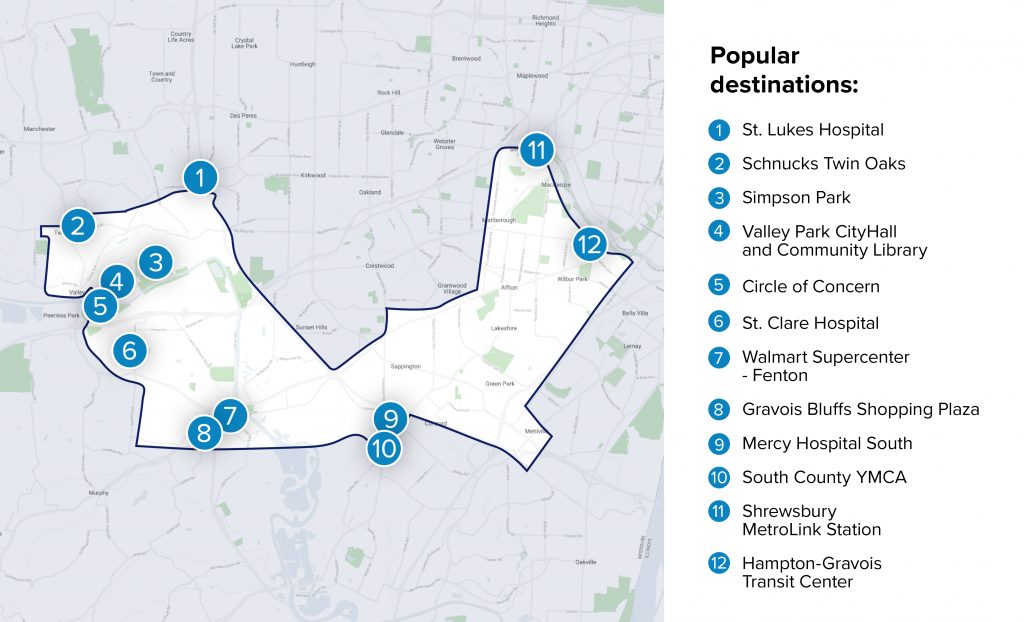 North St. Louis County
Service is available in this area seven days a week from 8 p.m. to 1 a.m. If you previously rode Via Metro STL between 1 a.m. and 5:30 a.m., please contact Metro Customer Service at 314.982.1406 (phone) or 314.207.9786 (text) for alternative transportation options.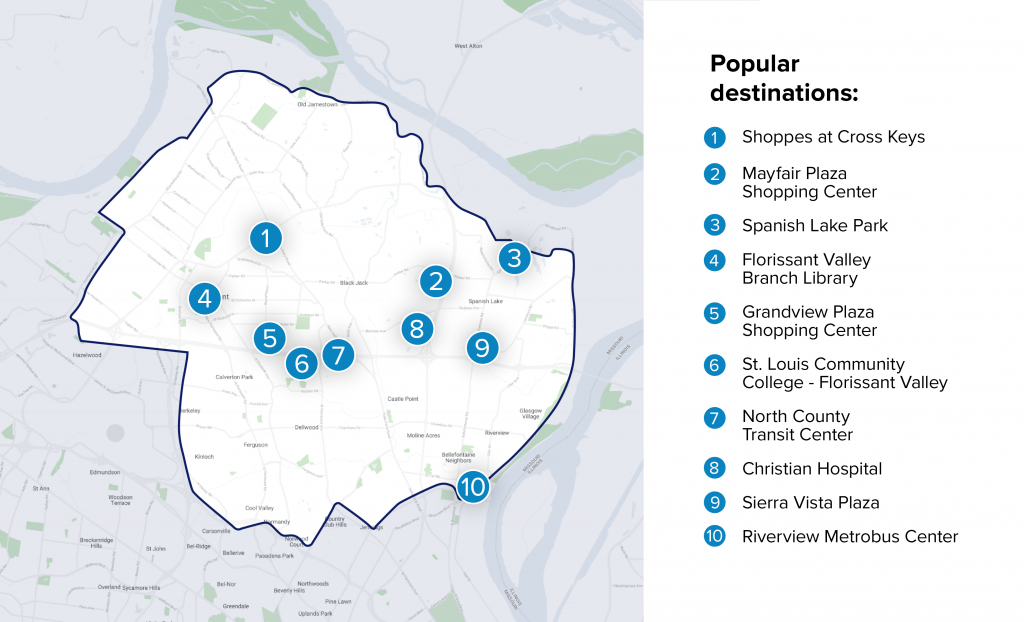 ---
St. Clair County Transit District Services
SCCTD VanGo
St. Clair County Transit District's SCCTD VanGo works just like Via Metro STL — book a trip using the app (or call in) and you'll get picked up in minutes at a corner a short walk from the address you entered. You'll then be matched with other passengers heading in the same direction. You can book a ride between 5 a.m. and 6 p.m. Monday through Friday anywhere within the service zone shown below.
Download the SCCTD VanGo app to get started. Rides cost $3 per ride, and you can bring an extra person along for $1.50. Rides to/from the Shiloh-Scott MetroLink Station will only cost $1.
Get more information here: scctd.org/vango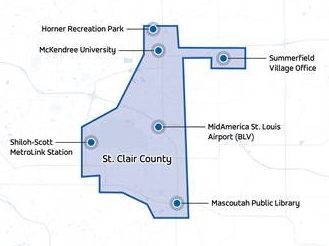 Belleville Flyer
St. Clair County Transit District's Belleville Flyer is an on-demand, shared-ride service that can pick you up from home, work or school and take you to MetroLink, MetroBus or anywhere else you need to go within the Belleville Mobility On-Demand Zone – at a fraction of the cost for a private rideshare. This service replaces the #17 Carlyle – 17th Street MetroBus route, which is discontinued on June 21, 2021.
The service operates Monday through Friday from 6 a.m. to 7 p.m., and Saturdays from 8:30 a.m. to 6 p.m. Trips within the zone are $3, and one-way trips to or from the Belleville Transit Center are only $1. Rides can be scheduled by calling 618-800-6884 or through the TransLoc app. Fares can be purchased on the TransLoc app and at ticket vending machines located at Illinois MetroLink Stations and Transit Centers. Visit scctd.org/belleville-flyer for more information.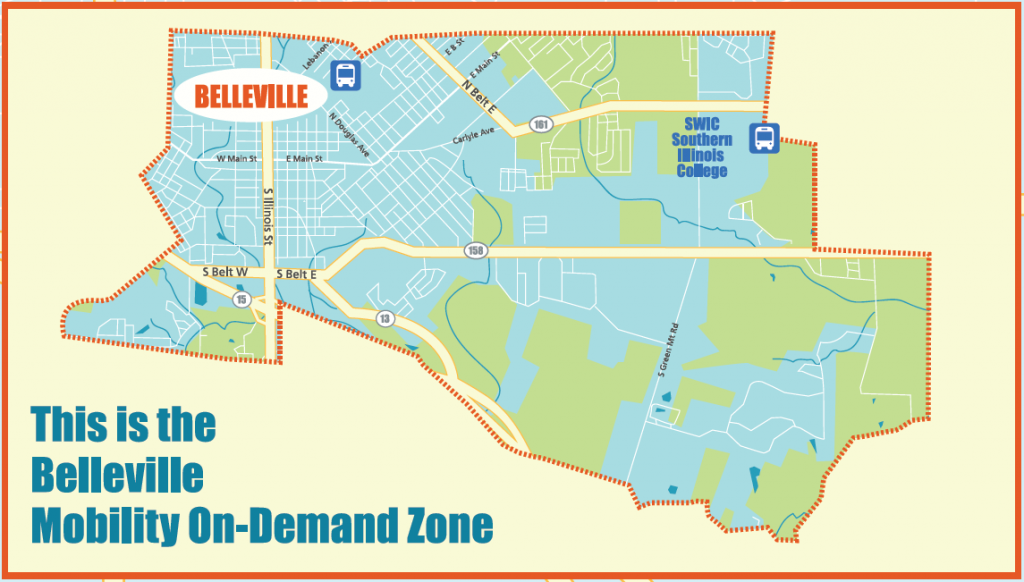 Bringing Your Bike
Combining your commute with our area's network of trails and bike-friendly roads? Simply request 2 seats when booking your ride.
You can learn about bringing your bike on MetroBus and MetroLink here.
---
These new options for riders are in addition to our Lyft program, that offers $1 rides to connect with a Metro Transit Center or MetroBus stop.