Take our rails to the trails and our buses to the bike paths. Combining the Metro transit system with our area's network of trails and bike-friendly roads lets you stay both healthy and environmentally conscious.
We Love Pedal Power!
We're big on two-wheelers because doubling-up your bike with Metro transit is eco-friendly, saves money and offers a fun way to exercise. When you ride the Metro transit system, you can store your bike on MetroBus bike racks, bring your bike on MetroLink or park it at one of our station bike racks. And don't forget that many MetroLink stations and MetroBus routes connect to bike trails throughout the area, so you can take our rails to the trails and our buses to the bike paths. Fun!
(Sorry, non-electric motorized bicycles, scooters and motorcycles are not permitted.)
When You Bring Your Bike on MetroLink
If you're 13 or older, or a child accompanied by an adult, you're welcome to bring your bike on MetroLink. Here's what you do: After all the other passengers have boarded or exited the train, enter the train at the rear door of the first train car or the front or rear door of the second train car. Only two bicycles can be accommodated in each area. If a MetroLink train is too crowded, you might have to wait for the next train before boarding with your bike.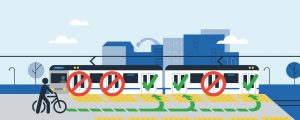 After you've boarded, please stand with your bike and don't leave it unattended or put it on its kickstand (it could fall and hurt someone, or block the aisle).
In consideration of the safety of others, please be courteous and don't ride your bike on station platforms (they're not meant for bike riding). Instead, please walk your bike to the elevators or ramps, and carry it when on stairs.
When You Bring Your Bike on MetroBus
We've equipped all MetroBus vehicles with a two-bike bike rack, available on a first-come, first-served basis. Check out the steps below for how you can bring your bike with you. Instructions are also on every MetroBus bike rack.
Step 1: Squeeze center handle and pull the rack down.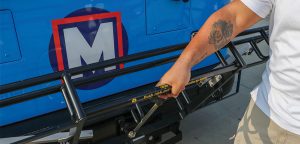 Step 2: Lift bike onto rack and place tires into rack slot.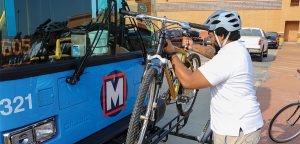 Step 3. Pull and lift tire hook to secure over top of front tire.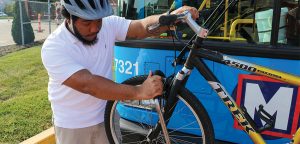 When You Get the Urge to Get Started
If you're thinking about adding a bike to your commute, get started by checking out some great tips and inside information on the best way to bike around the region from our partners:
Happy biking!