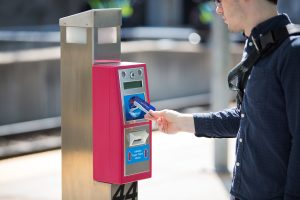 Gateway is Metro Transit's smart card fare collection system. It's a convenient, secure way to collect fares. Instead of paper passes, Gateway uses plastic smart cards – Gateway Cards – with computer chips inside that store passes (like monthlies or weeklies) or cash value (up to $100) – including discount fares. Gateway Cards are currently available to full fare customers and senior citizens in the MetroStore at corner of 8th & Pine in downtown St. Louis.
Benefits
Easy & Convenient: You can load your Gateway Card at ticket vending machines at all MetroLink Stations and Transit Centers, or at the MetroStore in downtown St. Louis. The Gateway Card stores your passes, cash value, transfers and discounts (for qualified customers). Load up your card as you go – and never worry about having exact change again!
Saves Money:Through a "daily cap" function, you do not pay more than you would for a day pass, no matter how many times you ride in a day.
More secure: If you register your Gateway card, the balance will be protected if it is lost or stolen.
---
For questions about Gateway Cards, contact:
[email protected] | 314.982.1500 (MO) | 618.274.1500 (IL)
---
Frequently Asked Questions
Where can I get a Gateway Card?
Gateway Cards are currently available to any full fare customer or senior citizen at our MetroStore, at the corner of 8th and Pine, located in downtown St. Louis.
Can I continue buying the same pass I currently use?
Paper passes will continue to be sold and accepted on Metro, but most existing passes – including reduced fare passes – are available on Gateway Cards. You will always be able to pay with cash on the bus.
How do I use my Gateway Card?
1. Load your card at the MetroStore, or at a ticket vending machine (TVM).
2. To ride MetroBus, hold your card on the farebox until you hear a 'ding!'
3. To ride MetroLink, hold your card on the ticket validators; a green light will flash when your fare has been successfully collected. Validators are lined up to form paid fare zones you'll pass through prior to reaching the platform.
4. MetroLink fare enforcement team members use handheld readers to validate that your fare has been paid; present your Gateway Card when you're asked for it.
5. Register your card so its value is protected if it's lost or stolen.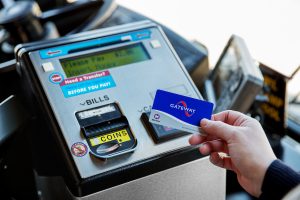 Why is it called Gateway?
Gateway is the perfect name for this fare collection system because it represents what the smart card does: It is the gateway to Metro Transit, to the region and to opportunity, by connecting you to the things that are important in your life – family, friends, work, school, medical care, entertainment and more.
How does Metro pay for the Gateway Card System?
Metro received three grants from the federal government specifically for the purchase and installation of the Gateway system and fare collection equipment. These funds cannot be used for any other system improvements.
Get your ticket to ride today!