March 29, 2018
Community Library Program Puts Books Into the Hands of Transit Riders
Return to Blog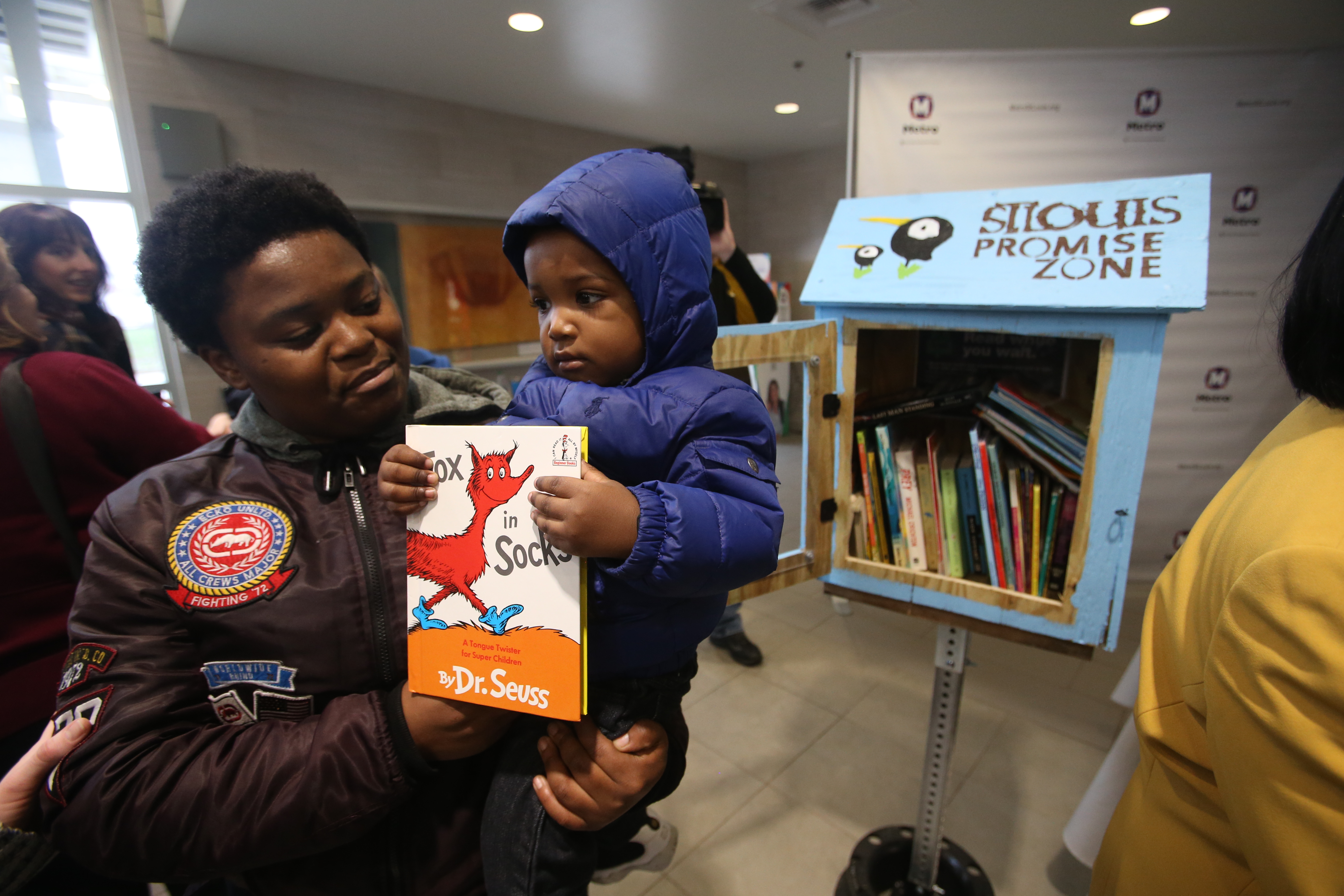 Reading materials for people of all ages are now available at four Metro Transit centers, putting surplus library books in the hands of riders in North St. Louis County.
The St. Louis Development Economic Development Partnership, St. Louis Promise Zone, St. Louis County Library, Bi-State Development, Metro Transit as well as special guests, joined this morning at the North County Transit Center to launch the new community library box program for transit riders. The project is designed to encourage people to read, while also making the transit experience more enjoyable on MetroBus and MetroLink.
"The love of reading, especially at a young age, opens the door to new opportunities, good grades in school, and a foundation that can lead to successful careers," said Hazel Erby, St. Louis County Councilwoman for District 1. "This program isn't just about making books available, it's about making the love of reading available, to everyone."
Promise Zone community library boxes can be found at:
North Hanley Transit Center
4300 North Hanley Road
Wellston Transit Center
6342 Plymouth Avenue
Rock Road Transit Center
7001 St. Charles Road
North County Transit Center
3140 Pershall Road
The boxes are stocked with novels, non-fiction, children's books and magazines that transit riders can borrow and read while they commute on MetroLink and MetroBus.
Borrowing one of the books is easy. No library card is required, and there are no costs, no fines and no due dates to worry about. Borrowers are simply asked to return the reading materials to a community library box when they are finished, whether that is two days or two weeks later, so that other transit riders can enjoy reading them.
"We're happy to partner with the St. Louis County Library system, Metro Transit and Bi-State Development on this great initiative for the St. Louis region," said Sheila Sweeney, Chief Executive Officer of St. Louis Economic Development Partnership. "This program has the potential to strengthen educational outcomes through increased literacy rates. It will provide our community with more access to books and have a positive impact on readership for all ages."
The community library boxes are being supplied by materials from St. Louis County Library through its Recycled Reads program. Recycled Reads circulates surplus library materials at various locations throughout St. Louis County to make reading more convenient and accessible for those with busy schedules and limited time for recreational reading.
"The community library boxes are a great way to bring library services to people outside of our buildings and to meet people where they are," said Kristen Sorth, St. Louis County Library Director. We're thrilled to partner with the Promise Zone and Metro Transit to expand the program so people who might not otherwise have time to read or visit a library can take advantage of this convenient service while using public transportation."
"The program will not only create a more enjoyable commute for Metro riders, but will help make reading a regular part of our daily lives," said John Nations, President and Chief Executive Officer of Bi-State Development President. "With these new community library boxes, we are removing barriers and making it easier for everyone to add something very positive and very enjoyable to their commute to work, or after work, or in the comfort of their own home."
Return to Blog