May 18, 2022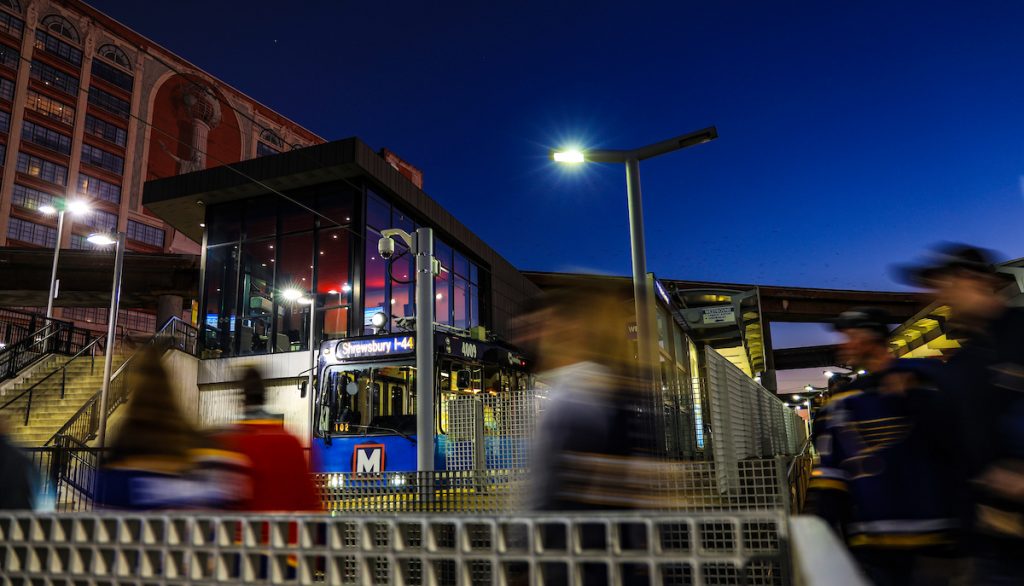 The St. Louis Blues are in the Stanley Cup Playoffs, and we are ready to cheer them on at Enterprise Center!
Metro makes it easy for you to enjoy all of the fun and excitement of playoff hockey without the hassle of traffic jams, road closures, paying for parking, and feeling pain at the pump. You can park for free at any of the 20 Metro Park-Ride lots at MetroLink stations in Missouri and Illinois, purchase a $5 Metro Day Pass for unlimited trips on MetroLink, and take a quick ride to Civic Center Transit Center to get to Enterprise Center.
MetroBus is also another great option, with more than a dozen MetroBus routes serving the Civic Center Transit Center.
MetroBus Routes Serving Civic Center: #4 Natural Bridge, #10 Gravois-Lindell, #11 Chippewa, #19 St. Louis Ave., #30 Arsenal, #31 Chouteau, #32 Dr. ML King, #40 North Broadway, #41 Lee, #73 Carondelet, #74 Florissant, #94 Page, #97 Delmar
View the schedule for all upcoming St. Louis Blues games
Plan Your Trip
To plan your trip, use our online Trip Planner or download the Transit app to plan your trip and pay your fare, or contact Metro Transit Information at 314.231.2345 (phone) or 314.207.9786 (text), available 7 a.m. to 6 p.m., Monday through Friday.
Return to Blog
Categories:
Metro Lifestyle