January 5, 2022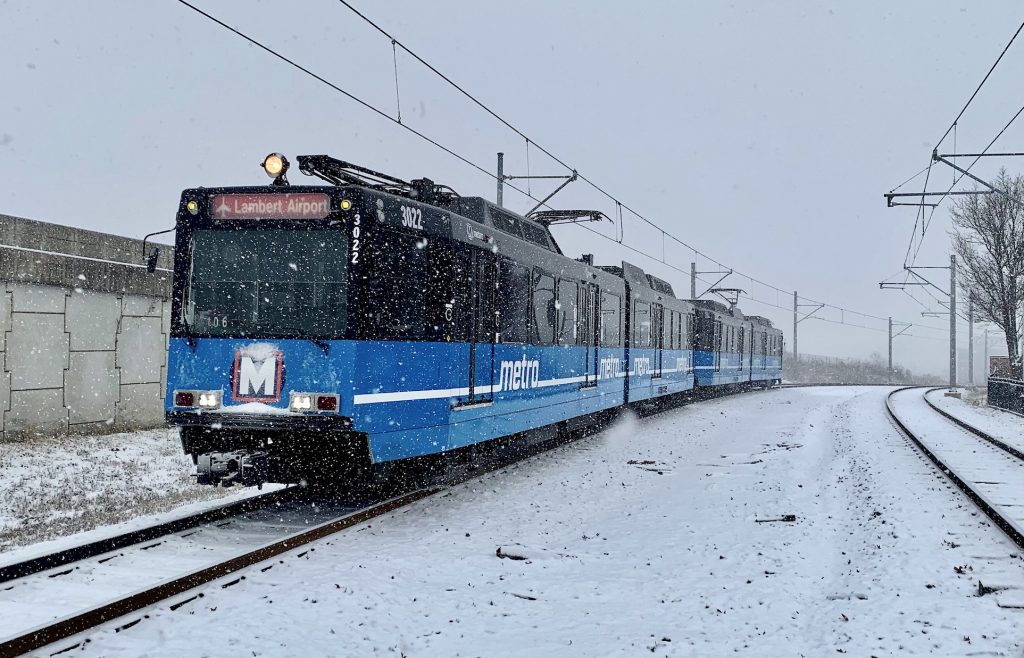 Navigating winter weather in the St. Louis region can be tricky whether you are walking, driving, or taking public transit.
Here at Metro Transit, we take a number of steps every season to keep our riders and team members safe during winter weather events. When winter weather shows up in the forecast, rest assured that Metro team members are already preparing for what may come.
MetroBus & Metro Call‑A‑Ride
Snow, ice, freezing rain and sleet can cause issues for MetroBus and Metro Call‑A‑Ride operations, particularly due to bad road conditions. While MetroBus and Metro Call‑A‑Ride service may see delays during these periods, both services operate as scheduled during winter weather unless conditions become so hazardous that temporarily suspending service is necessary.
We can only drive as fast as the other traffic is safely moving around us on streets, roads and highways. Allow extra time to walk to your bus stop and be ready early for your Metro Call‑A‑Ride pickup. Be patient with your drivers. They are doing the best they can to get you where you need to go in challenging winter conditions.
Preparation for winter weather starts in late fall when we transition from using normal bio-diesel in our transit vehicles to bio-diesel with additives that prevent the fuel from turning into gel in extreme cold weather. And if a bus or van does become stuck while on its route, we have snow buses available that are equipped with tire chains to tow the bus back to a garage.
MetroLink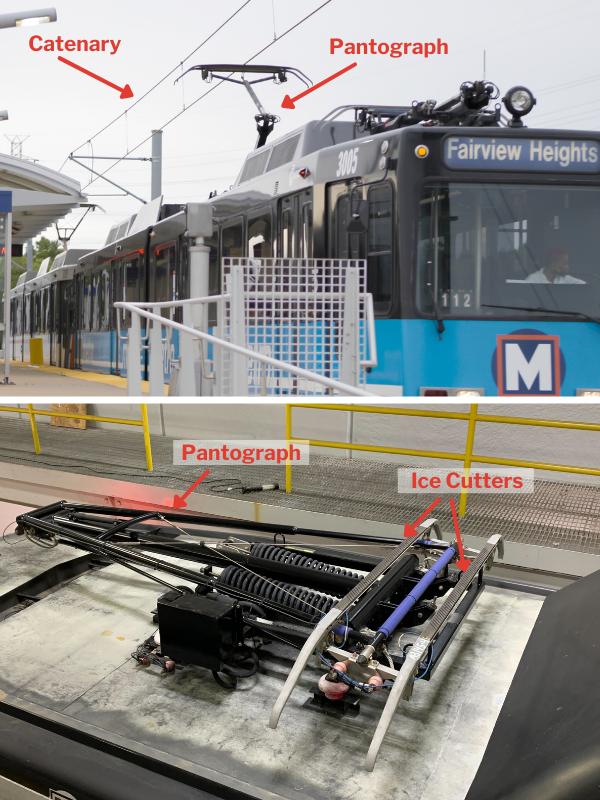 A few inches of snow isn't usually a major issue for MetroLink trains. They can plow right through, but ice is a different story. During ice storms or weather events that include freezing rain or sleet, ice can build up on the catenary (the system of overhead wires used to supply electricity to our light rail vehicles). A build-up of a quarter an inch of ice or more can interfere with that connection and cause the train to lose power.
To prevent ice build-up on the overhead wires, MetroLink uses ice cutters on the pantographs (an apparatus mounted on the roof of our trains to collect power from the catenary). During icy weather, operators engage the ice cutters (which have heaters) in order to clear ice from the catenary. Ice can also build up on the pantographs, so we watch for that and try to put fresh trains on the system in order to prevent a train from breaking down because the ice buildup on the pantograph is keeping it from getting overhead power.
If the forecast calls for ice accumulation outside of our normal operating hours, the Metro team will run extra trains throughout the night  and early morning to prevent ice from accumulating on the wires.
Ice and snow can also clog track switches, which allow trains to switch tracks. To prevent ice and snow from building up, we use heaters that are built into the system. A large part of winter preparation is clearing the track switches of any debris like leaves or garbage so the heaters can operate safely.
Transit Centers and Facilities
Transit Centers, MetroLink Stations and Metro Transit facilities can also be impacted by winter weather events. Preparation for Metro Transit's snow detail starts in September when we begin ordering salt and other chemicals. At that time, we also begin general maintenance on salt spreaders and snowplows.
During winter weather events, the Metro Transit maintenance team is responsible for clearing ice and snow from MetroLink platforms, Park-Ride lots, sidewalks on Metro property, and MetroBus lanes. The clean-up strategy largely depends on the weather forecast, but also what our team members and riders report to us is also taken into account. Different kinds of precipitation require different responses and treatments. Snow can be plowed away easily, but freezing rain and ice must be treated with salt and other chemicals to melt and clear it.
What You Need to Know When You're Riding During Winter Weather
As riders, it is important that you check the weather before heading out on your trip. You'll know if you need to add extra layers to stay warm while outdoors, and also if you should watch for slick spots when headed to your bus stop, transit center or MetroLink station. Please allow extra time to get to where you are going. Running to catch the bus or the train during winter weather is never a good idea. Expect delays and please be patient. Know that we are doing the best we can under the conditions.
While waiting for your train on our outdoor MetroLink platforms, look for the heaters to help you stay warm. You can turn on a platform heater during regular service hours when the temperature is 45 degrees or below.
The Transit app is a great resource for knowing when your bus will show up, and if there are any delays due to road conditions. Our team also uses the app to push rider alerts directly to your phone. Learn more about planning your trip, tracking your ride, and paying your fare with the app here: metrostlouis.org/transit-toolbox.  You can also contact the Metro Transit Information team at 314-231-2345 (phone) or 314-207-9786 (text), Monday through Friday from 7 a.m. to 6 p.m. for assistance.
---
Interested in joining the team? Visit our website for more information on open positions: https://jobs.jobvite.com/bistatedev/jobs/viewall
Return to Blog
Categories:
Metro Lifestyle
,
Safety
,
Team Metro
,
Weather