May 3, 2023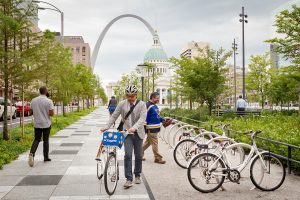 May is National Bike Month, and we are joining Trailnet, Greater St. Louis, Inc, and Washington University to celebrate the many benefits of cycling, including improved health, reduced traffic congestion, and a smaller carbon footprint. There are several exciting events happening throughout the month to show how easy and fun cycling can be.
Viewing of The Street Project– May 10
One event you won't want to miss is The Street Project documentary showing at 6 p.m. on Wednesday, May 10 at Central Library. This powerful film highlights the global efforts to create safer streets for all citizens, and is sure to inspire you to get out and pedal!
Downtown Family Bike Ride- May 13
Another fun activity is the free family-friendly downtown bike ride on Saturday, May 13, from 9 a.m. to noon. This is the perfect place to bring your kids, your friends, or your co-workers, and enjoy a ride through downtown St. Louis. After the ride, check out the information booths and other resources to learn more about cycling opportunities in the area.
National Bike to Work Day- May 19
The highlight of National Bike Month is National Bike to Work Day on Friday, May 19. This is a chance to ditch the car and pedal to the office instead.  From 7 a.m. to 8:30 a.m., you can ride your bike to one of several area hospitality stations for free coffee and pastries, as well as a custom "I Biked to Work" sticker. You can find hospitality stations at Forest Park-DeBaliviere, Cortex, and Civic Center MetroLink Stations; at Kaldi's Coffee on S. Kirkwood Road in Kirkwood and in Clayton on Demun Avenue; and at other locations throughout the region.
Whether you're a seasoned cyclist or a beginner, participating in this event is a great way to incorporate exercise into your daily routine, reduce your carbon footprint and save money on gas and parking. And to make it even easier, bring your bike onto Metro Transit and enjoy a multi-modal Bike to Work Day.
Day on the Trails- May 20
St. Clair County Transit District is kicking off its Summer Riding Program on Saturday, May 20 with a "Day on the Trails." This free, community event takes place from 9 a.m. to noon at the Belleville Transit Center (718 Scheel Street, Belleville, IL 62220). It will feature a wide range of activities, food and music, as well as the ability to register for the Summer Riding Program and pick up mileage tracking booklets.
Those interested can also take part in a 1.5-mile nature walk and scavenger hunt, 5K fun run or 7-mile bike ride. Each will get underway at 9 a.m. from different starting points along the MetroBikeLink System and end at the Belleville Transit Center. Learn more here.
Multi-Modal Challenge: Take The Pledge
If you take the Multi-Modal challenge and pledge to bike to work on May 19, you'll get a free Metro Transit Day Pass (while supplies last) to make your commute even easier by combining cycling with transit. To take the pledge and get your free pass, visit trailnet.org/bike-month. The pledge form is quick and easy to complete, and you'll be joining thousands of other cyclists in the St. Louis area who are committed to making our city more bike-friendly. Remember, bicycling isn't just a great way to get around – it's also a fun and healthy activity that can be enjoyed by people of all ages and backgrounds. So grab your helmet and hit the road this month!
"Streets that are safe for bikes are streets that are safe for all," said Cindy Mense, CEO of Trailnet. "When folks in our communities feel comfortable and happy riding a bike in their neighborhoods, our region becomes more vibrant as a whole. That's the vision we champion, and the lifestyle that we celebrate, every May during National Bike Month."
Commuters combining their bikes with MetroLink and/or MetroBus for their trips can learn more about how to easily load their bikes onto buses and trains by visiting metrostlouis.org/bike-and-ride.
Return to Blog
Categories:
Metro Lifestyle