September 21, 2023
RIDE ON to a Tiger Showdown- Mizzou vs Memphis at The Dome this Saturday
Return to Blog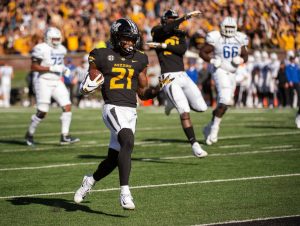 It's a college football catfight this weekend as the undefeated Missouri Tigers take on the Memphis Tigers at The Dome at America's Center. Plan to attend? Skip the hassle of finding parking and dealing with traffic by taking Metro Transit. It's a convenient and affordable way to make it to the game in time for kick-off.
Park your vehicle at any one of our 21 free Park-Ride lots found at MetroLink stations in Missouri and Illinois, and hop on the train to the game. Both Red and Blue Line trains will take you straight to downtown St. Louis to the Convention Center Station, just a short walk from The Dome.
To make your ride even smoother, use the Transit app to plan your trip and purchase a $5 Day Pass in advance to enjoy unlimited rides on MetroLink and MetroBus for the entire day. This will help you save time on game day by eliminating the need to stand in line at a ticket vending machine.
MetroBus is another option for reaching the game with the #40 N. Broadway and #174X Halls Ferry Express routes both serving stops near The Dome.
Kickoff is at 6:30 p.m. at The Dome. Get ready to cheer on your favorite college team, give Metro Transit a try and enjoy the ride!
Need a ticket to the game? Find your tickets here: https://www.ticketmaster.com/event/06005D75A506361C
Return to Blog