February 4, 2015
In celebration of Valentine's Day next week, we're sharing the stories of couples who met on MetroBus or MetroLink. This week's Passenger Profile features our first couple, Tonya and Darryl.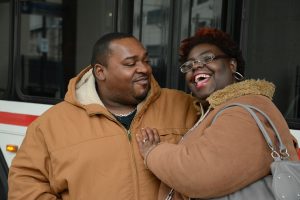 When Tonya boarded the #30 Soulard in October 2010, she didn't realize it would be a ride she'd always remember. She was on her way to the home of her friend's grandmother and was feeling stressed.
"I was anxious and didn't know where I was going," she said.
As fate would have it, also on the bus that day was Darryl, who sat across from Tonya. It didn't take long for both of them to notice each other.
"He looked familiar," Tonya said. "We found out we went to middle school together. We actually played in the same band."
Both of them remember small parts of that initial meeting. Tonya remembers his smile.
"He had the most gorgeous smile I had ever seen," she said.
Darryl remembers what she wore.
"She was wearing a blue sweater and a blue hat," Darryl said.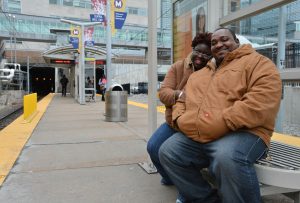 They connected on Facebook and continued to run into each other on the #30 Soulard as well. Their bus rides turned into deeper conversations, and those conversations turned into coffeehouse visits.
"We would meet at MoKaBe's Coffeehouse at Grand and Arsenal," Tonya said. "I got hot chocolate with a bit of flavor in it."
The couple became engaged two years later on March 10, 2012.
Tonya and Darryl still use public transportation to get to work, to travel with their 3-year-old son and to spend time with each other. In fact, the couple tries to go out on dates once a month.
"We don't have to spend a lot of money," she said. "We jump on the bus and go."
Tonya said she would have never met Darryl if it weren't for Metro transit.
"We have our ups and downs," Tonya said," but we always seem to look back on those days riding the #30 Soulard, and it was awesome."
Return to Blog