Metro Transit Security Assessment
Since March 2018, we have been working closely with our partners at the East-West Gateway Council of Governments, St. Louis County Police Department, St. Louis Metropolitan Police Department, St. Clair County Sheriff's Department, and security consultant WSP-USA to enhance safety and security efforts on the Metro Transit system and address regional concerns.
Using data, insights and recommendations developed through a system-wide security assessment, we have made improvements and enhancements to our approach to transit safety and security over the past two years, and will continue to make progress throughout 2020.
Read about the Metro Security Assessment and Strategy and the implementation of recommendations that are improving safety on the system.
Metro Security Scorecard
This scorecard provides a mechanism to track Metro's progress toward implementing the comprehensive security strategy in each of six categories: Security Strategy, Police & Security Staffing, Procedures & Training, Fare & Fare Enforcement, Crime Prevention Through Environmental Design (CPTED), and Technology.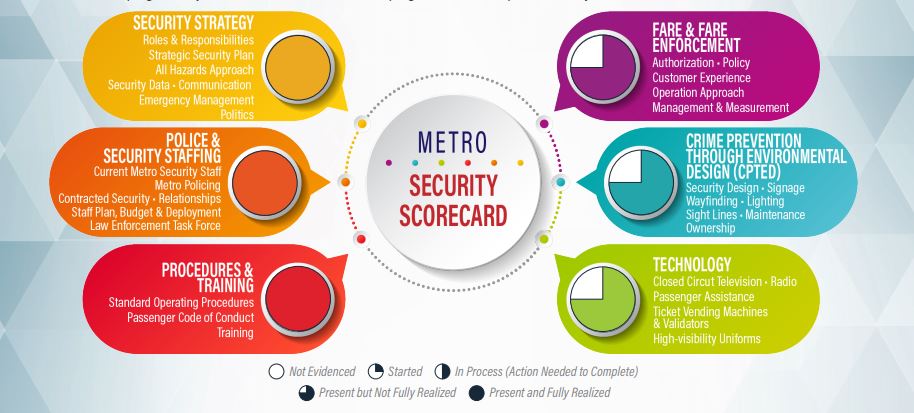 MetroLink Task Force Reports
Nothing is more important than your safety. We are constantly upgrading and improving our safety and security measures while continuing to deliver the reliable, efficient service riders expect.
Ridership safety and security information prior to January 2021 is available on our Community Reports Archive.
The information provided below is 'unofficial' and not jurisdictional specific. Details or specifics related to the information would need to be obtained by contacting the individual police departments (St. Louis County, St. Louis City, and St. Clair County) for any 'official' data.
Definitions:
Incident: an event where one or more offenses are committed by the same offender(s) at the same time & location.
Incident Report: unofficial documentation of a security-related incident, completed by officers on the MetroLink Task Force; not the official crime report, please contact the individual police departments for official data.
Offense: criminal offense(s) that occur during an incident.
Offense Types: (Warrant arrests are not included in the offense categories)
Standard of Conduct Violations: crimes that are less serious, but that profoundly affect passengers' perception of security and that consume a disproportionate amount of time and resources available to transit police and security forces (e.g., curfew & loitering laws, disorderly conduct, fare evasion, drug abuse violations, driving under the influence, drunkenness, sex offenses, trespassing).
Property Crimes: crimes that involve the property of the transit agency or the personal property of passengers & employees property  (e.g., arson, burglary, larceny/theft, motor vehicle theft, vandalism).
Violent Crimes: all crimes that passengers/employees generally consider a potential threat to their personal safety (e.g., assault, homicide, rape, robbery, suicide/attempted suicide, weapons violation).
Proactive Policing: police work that deters crime, reduces disorder, reduces fear of crime, or remedies specific concerns in a given area; police action that occurs before a crime is committed