Metro Call-A-Ride
Metro Call-A-Ride provides on-demand, curb-to-curb paratransit service in the City of St. Louis and St. Louis County. Origin to destination service is available for those who qualify and request the service at the time of booking.
The day after you call for the service, we'll come to the specific address you request and take you to your destination. Metro Call-A-Ride service is available to both the general public and to persons whose disabilities prevent them from using regular, accessible, fixed-route transit services. You'll share your ride with other passengers in modern, wheelchair-accessible vehicles.
To determine the type of service available to you, please consult the service-boundary map below or take a look at the Metro Call-A-Ride brochure for more information.
For tips on how to use the service, check out Metro Call-A-Ride tips.
Metro Call-A-Ride Service Areas and Fares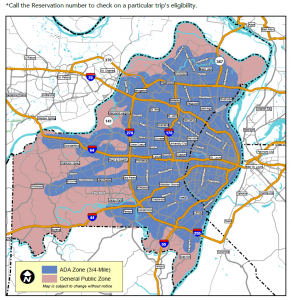 If you're eligible for service through the Americans with Disabilities Act (ADA) and you're taking an ADA-mandated trip in the blue-shaded areas, Metro Call-A-Ride service is available to you seven days a week. For your trip to qualify as an ADA-mandated trip, it must begin and end within 3/4 of a mile from a MetroBus route or MetroLink station during the times bus or train services are available. If you're not ADA-eligible or you're not taking an ADA-mandated trip, you can still use Metro Call-A-Ride to travel within the blue shaded area, but you'll be charged non-ADA rates.
Non-ADA service is available to everyone in the pink-shaded area seven days a week, and in the green shaded area on Saturday and Sunday only. Non-ADA fares will apply for these trips. For more information on fares, call Metro Call-A-Ride at 314-652-3617 or check out the Metro Call-A-Ride brochure.
Eligibility for ADA Services
To find out if you're eligible for ADA Service, please call the Metro ADA Office at 314-982-1510 (TDD 314-982-1509). For more information, visit our ADA Services page.
How to Make a Reservation
For Metro Call-A-Ride reservations, call 314-652-3617 or toll free at 888-652-3617.
For the hearing impaired, call Relay Missouri at 711.
The Metro Call-A-Ride reservation phone lines are open seven days a week from 7:30 a.m. to 4:30 p.m. ADA-mandated trips can be booked up to three days in advance on any day of the week, and up to five days in advance on Fridays, which allows reservations through the Wednesday of the following week, eliminating the need to call on weekends to book weekday trips. Please note that non-ADA-mandated trips can only be reserved up to one day before the trip. All trips can be booked on the day of travel if space is available. ADA-mandated trips that are frequent and ongoing may be eligible for a pre-booking status.
How to Cancel a Ride You've Scheduled
To cancel a Metro Call-A-Ride trip, call 314-289-5230.
If you are unable to keep your trip reservation for any reason, please call as soon as possible to cancel your trip so that other riders can be scheduled. You must call at least three hours in advance of your trip or you will receive a No-Show infraction. Repeated No-Show infractions may result in a suspension of riding privileges. If you think you have missed your van or want to inquire about your trip times, call the Customer Assistance & Cancellation Line and we will check on your trip for you. The Customer Assistance & Cancellation Line is answered 24 hours a day, Monday through Sunday.
For more information about cancellations and no-shows, please read the full No-Show Policy.
Get More Information
Questions? Call the Customer Service Coordinator at 314-982-1505 or click on the links below to download our brochures: