This event has been postponed. Stay tuned for information about future hiring events. 
DRIVERS WANTED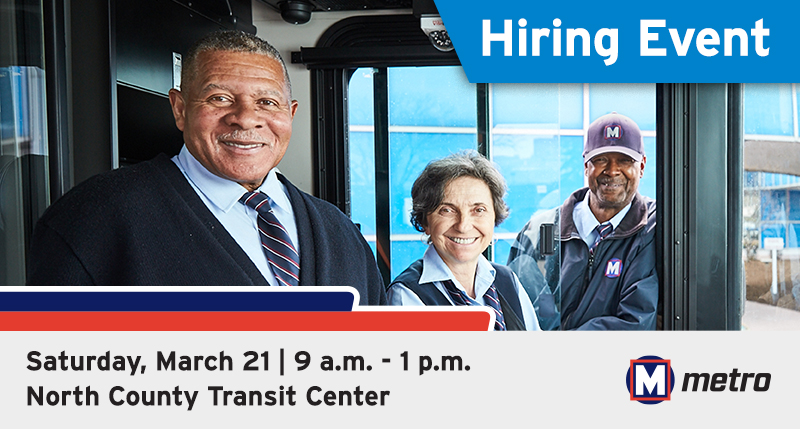 Are you a skilled driver with Class A or Class B CDLs, a passenger endorsement and no air brake restriction? Come join our team and earn up to $24.95/hr with a comprehensive benefits package including full health & dental, on-going training, a retirement plan and more. Fill out an online application and come by for an on-site interview on March 21.
Apply
Applying is easy, just follow these simple steps:
Fill out an application by clicking on the operator position below.
You must fill out an application in advance to be eligible to interview.
Plan to attend the Metro Job Fair Saturday, March 21 for an on-the-spot, in person interview.
Job Fair Date & Time
Saturday, March 21
9 a.m. to 1 p.m.
Location
North County Transit Center
3140 Pershall Rd.
St. Louis, MO 63136
_________
BSD – Equal Employment Opportunity M/F/D/V
Bi-State Development is proud to be an Equal Opportunity Employer, supporting diversity in the workplace. We provide equal opportunity to all qualified individuals regardless of race, color, religion, age, sex, national origin, veteran status, disability, or any other factor protected by law.
Drug and Alcohol Free Work Force
An important aspect of providing excellent service is assuring a drug and alcohol-free workforce. Therefore Bi-State Development has established the goal of a 100 percent drug and alcohol-free workplace. Applicants will be required to undergo drug and alcohol testing prior to employment and will be subject to further drug and alcohol testing throughout their employment. Employees selected for safety sensitive positions must also submit to drug and alcohol testing in accordance with Bi-State Development's policy and the Federal Transit Administration's regulatory requirements. In addition, thorough background and criminal checks are completed for all new hires.