The Gateway Go Card is Back for Summer!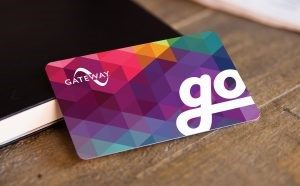 Metro Transit is proud to provide discounted passes once again to young people this summer through our Gateway Go program. The Gateway Go Card provides area youth between 13 and 25 years old with discounted fares to make it easy and affordable to connect with summer jobs, camps, activities and other important destinations throughout the bi-state region.
Gateway Go Goes Mobile
This year, we are excited to offer the Gateway Go Card as a mobile pass through the Transit app. Once you have signed up for your Gateway Go Mobile Pass and provided Metro Access, you will be able to access all of the available discounted passes quickly and easily through your mobile device – no card needed!
Available Gateway Go Discounted Fares:
3-Month Summer Pass – $80.00 (valid June 1-August 31)
Two-Hour Pass – $1.50
MetroLink One-Ride Ticket – $1.25
MetroBus One-Ride Ticket – $0.50
What You Need to Know
Gateway Go runs June 1 – August 31, 2021
Available for youth ages 13–25
If you would like a plastic Gateway Go Card, they are available at MetroStore (located at 801 Pine Street, near the 8th & Pine MetroLink Station in downtown St. Louis)
If you need to register multiple people for the Gateway Go program, please contact us at mygatewaycard@metrostlouis.org or call 314.982.1500.
---
IMPORTANT NOTE: You must have an account for the Transit app to use the Gateway Go Mobile Pass and get discounted rides. Download the Transit app and create an account using the same email you will use to sign up for the Gateway Go Mobile Pass below. 
Download the Transit app:
Questions? Contact the Gateway Card Center
Email: mygatewaycard@metrostlouis.org
Call: 314.982.1500