The Gateway Go Summer Youth Program ends August 31st
The program, originally launched as a pilot in summer 2018, began again in June of this year as an initiative to provide discount fares to people between the ages of 13 and 25 accessing jobs and internship programs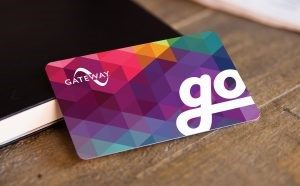 Metro Transit is proud to have provided Gateway Go Cards for the second summer in a row, while observing the positive impact the program has had on our community.
What do I do with my Gateway Go Card?
Gateway Go Cards will no longer be available for purchase after August 31st.

If you have a cash value balance remaining on your Gateway Go Card, you may continue to use your card to ride Metro until your cash value is depleted, but no later than August 31, 2019.
All cards will be disabled after August 31st and Gateway Go Cards will no longer be a valid fare media for Metro Transit. Refunds will not be provided for any non-redeemed cash value that remains after August 31st.
What are my options for Metro passes now?
Young people who currently have Gateway Go Cards are encouraged to visit MetroStore at 8th & Pine to transition to either a Full Fare Gateway Card or a Student Semester Pass (must have valid student ID). Outstanding Go Card balances are not eligible to be transferred to your new Gateway Card.
Questions? Contact the Gateway Card Center:
mygatewaycard@metrostlouis.org
314.982.1500
The Gateway Go Card was developed in partnership with the City of St. Louis, St. Clair County, the St. Clair County Transit District, St. Louis County, St. Louis Economic Development Partnership, Metro Transit and Bi-State Development. Bringing together community partners, businesses, public agencies and concerned individuals, this partnership has already proven that increased access to transportation is creating stronger and healthier communities throughout our region.