The Gateway Go Youth Pass is Back for Summer!
Metro Transit is proud to provide discounted passes once again to young people this summer with Gateway Go Cards. The Gateway Go Card is an exciting option to make it easier for young people in the bi-state region to take Metro Transit to get to where they need and want to go during the summer months.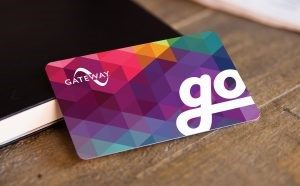 Program Details
Available discounted fares:
Monthly Pass ($39.00)
Two-Hour Pass ($1.50)
One-Ride Ticket ($1.00 MetroBus and $1.25 MetroLink)
How can I get my Gateway Go Card?
Sign up for the Gateway Go Card at the MetroStore or Metro Transit Access Center, both easily accessible with Metro Transit:
MetroStore
801 Pine Street
Near the 8th & Pine MetroLink Station
Open Monday–Friday, 8:30 a.m.–5 p.m.
Metro Transit Access Center
317 DeBaliviere Avenue
Near Forest Park-DeBaliviere Transit Center
Open Monday–Friday, 8 a.m.–4:30 p.m.
You can also sign up on the Gateway Bus, as it travels to transit centers, community events and festivals this summer. A schedule of upcoming Gateway Bus events are below – check back periodically as more event are added.
Tuesday, June 4
Noon – 2 p.m.
Civic Center Transit Center
Wednesday, June 5
9 a.m. – 11 a.m.
5th & Missouri Transit Center
Thursday, June 6
4 p.m. – 6 p.m.
North County Transit Center
Organizations may also request a visit by the Gateway Bus – call 314.982.1500 or email MyGatewayCard@MetroStLouis.org for more information.
How do I load my Gateway Go Card?
Gateway Go Cards can be loaded upon purchase from MetroStore, or at any Ticket Vending Machine (TVM) at all MetroLink stations and MetroBus Transit Centers. Hold your card on the TVM's Gateway Card reader to begin, select the pass you wish to load, insert your payment and hold your card on the reader again to load the pass to your card.
Questions? Contact the Gateway Card Center:
mygatewaycard@metrostlouis.org
314.982.1500