Cortex MetroLink Station
The first new MetroLink station to be built in more than a decade, and the first to be constructed by Metro Transit through a public-private funding partnership, officially opened on July 31, 2018.
The new Cortex MetroLink Station offers another transportation option for current and future workers in the Cortex Innovation Community and throughout the St. Louis central corridor. The event also marked the completion of the first section of the Chouteau Greenway, a quarter-mile paved path linking Boyle and Sarah Avenues along which people can walk, run or bicycle.
The Cortex MetroLink Station and Chouteau Greenway project were funded through a partnership between the Federal Transit Administration, Cortex, Washington University, BJC HealthCare, Great Rivers Greenway, the City of St. Louis, Citizens for Modern Transit, Metro Transit and Bi-State Development. Representatives from all the partners joined federal, state and local leaders and hundreds of community members to celebrate the opening of the 38th station on the region's light rail system. The newest station, located between Boyle and Sarah Avenues, provides an additional stop in the rapidly growing area between the Grand Station and Central West End Station.
"We collectively are building something here that's incredibly important for this region and for this country," said Cortex Innovation Community President and CEO Dennis Lower. He noted what started as two buildings eight years ago has grown to 13 buildings in the Cortex Innovation Community, with three more under construction and 13 more projects expected to break ground in the next four years. "This station is getting here just in time."
Project Details
Start of Construction: August 16, 2017
Completion of Construction: July 31, 2018
Project Cost: $15.2 million
Project Funding

Grants: $10.3 million from Transportation Investment Generating Economic Recovery (TIGER) grant from the U.S. Department of Transportation
Public-Private Partnership: The Cortex Innovation Community, Great Rivers Greenway, Washington University, BJC HealthCare and the City of St. Louis/St. Louis Development Corporation

Project Partners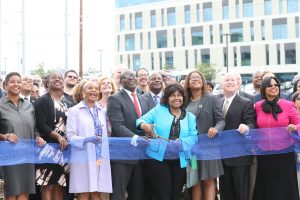 More Information:
Groundbreaking for New Cortex Metrolink Station
Construction Underway on Cortex Metrolink Station