Have a media request? Contact the Metro Communications Department at 314-486-5553.
July 13, 2021
Metro Transit Receives Donation of More Than One Million Face Masks from Urban League of Metropolitan St. Louis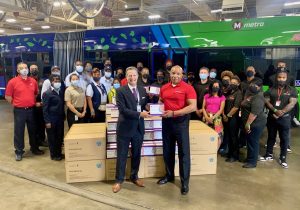 Metro Transit riders and operators will benefit from the generous donation of 1.1 million face masks through a partnership with the Urban League of Metropolitan St. Louis, Inc. Wearing masks on public transit is required as part of a mandate from the Transportation Security Administration that is currently in place at least through mid-September.
"Our Metro operators are on the front lines of this pandemic; without their tireless efforts moving people to work, home, school, and elsewhere, our region would shut down completely. We are proud to partner with Metro and Bi-State Development to provide vital protection for the operators and riders," said Michael P. McMillan, Urban League President and CEO.
"Metro Transit operators are engaging with citizens every day, all day — serving the African American community, low to moderate income individuals and families, and our most vulnerable residents. With the cases of the COVID-19 variant rapidly increasing, this partnership makes all the sense in the world. We need to come together to fight this virus," said James Clark, Regional Vice President of Public Safety and Community Response for the Urban League.
"Partnerships like this one with the Urban League really do make a difference, and these donated masks will help protect not only our riders, but the community we serve," said Taulby Roach, Bi-State Development President & CEO. Metro Transit is an enterprise of Bi-State Development. "Our ATU Local 788 operators are front-line heroes and continue to transport essential workers and other riders 21 hours a day, seven days a week. We are committed to supporting the economic recovery of the region."
Roach added, "Masks help reduce the risk of transmission of COVID-19 and that is why this generous donation from the Urban League is so important and so appreciated."​
Since March 2020, Metro has made adjustments to transit operations and implemented many new procedures including wearing masks to help keep transit riders and MetroLink, MetroBus and Metro Call‑A‑Ride operators safe and healthy during this pandemic. Some steps include enhanced cleaning and disinfecting of Metro vehicles and transit centers and offering vaccines for Metro team members.
Photo: Taulby Roach (front-left) and James Clark (front-right) with team members from Metro Transit, Bi-State Development and Urban League of Metropolitan St. Louis
Video: https://www.youtube.com/watch?v=mlMEfgvDt3s
About Metro Transit
Metro Transit operates the St. Louis region's public transportation system, which includes 14 battery electric buses and 400 clean-burning diesel buses that serve 68 MetroBus routes in eastern Missouri and southwestern Illinois. Metro also operates MetroLink light rail vehicles on 46 miles of track serving 38 stations in the two-state area, and operates Metro Call‑A‑Ride, a paratransit fleet of 122 vans. Metro Transit is a Bi-State Development enterprise.