Have a media request? Contact the Metro Communications Department at 314-486-5553.
May 21, 2020
Park-Ride Lot at Forest Park-DeBaliviere Transit Center to Close on May 25
The Park-Ride lot at the Forest Park-DeBaliviere Transit Center, located at 250 DeBaliviere Avenue, will be closed beginning Monday, May 25, to accommodate the construction of a new transit-oriented development (TOD) project in the Skinker-DeBaliviere neighborhood, Expo at Forest Park. Parking at the Forest Park-DeBaliviere Transit Center will be unavailable until 2022.
During this period, transit riders who normally park their vehicles at the Forest Park-DeBaliviere Transit Center are instead encouraged to use the Park-Ride Lot at the Delmar Loop Transit Center, located at 650 Rosedale Avenue.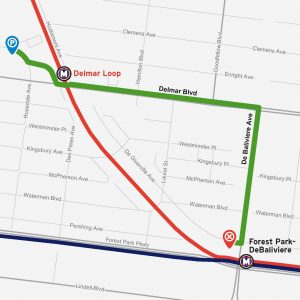 A full list of available Park-Ride options on the Metro Transit system can be found at metrostlouis.org/park-and-ride.
Bi-State Development is working with a private developer, Tegethoff Development, on Expo at Forest Park, a $90 million TOD project that will include 285 market-rate apartments and 30,000 square feet of anchored retail. Construction on the project will begin in the second quarter of this year, and is scheduled to be completed in 2022. By adaptively reusing underutilized transit infrastructure and real estate at the Forest Park-DeBaliviere Transit Center, this project will enhance this key area of the Skinker-DeBaliviere neighborhood while also improving the security, amenities and transit experience of Metro riders. Since 2011, more than $9.2 billion in new development has been completed, is under construction or is reasonably committed within a half-mile radius of MetroLink stations.
About Metro Transit
Metro Transit operates the St. Louis region's public transportation system which includes 400 clean-burning diesel buses that serve 77 MetroBus routes in eastern Missouri and southwestern Illinois. Metro also operates MetroLink light rail vehicles on 46 miles of track serving 38 stations in the two-state area, and operates Metro Call‑A‑Ride, a paratransit fleet of 122 vans. Metro Transit is a Bi-State Development enterprise.