August 28, 2019
Area Colleges Participate in Inaugural Transit Challenge
Return to Blog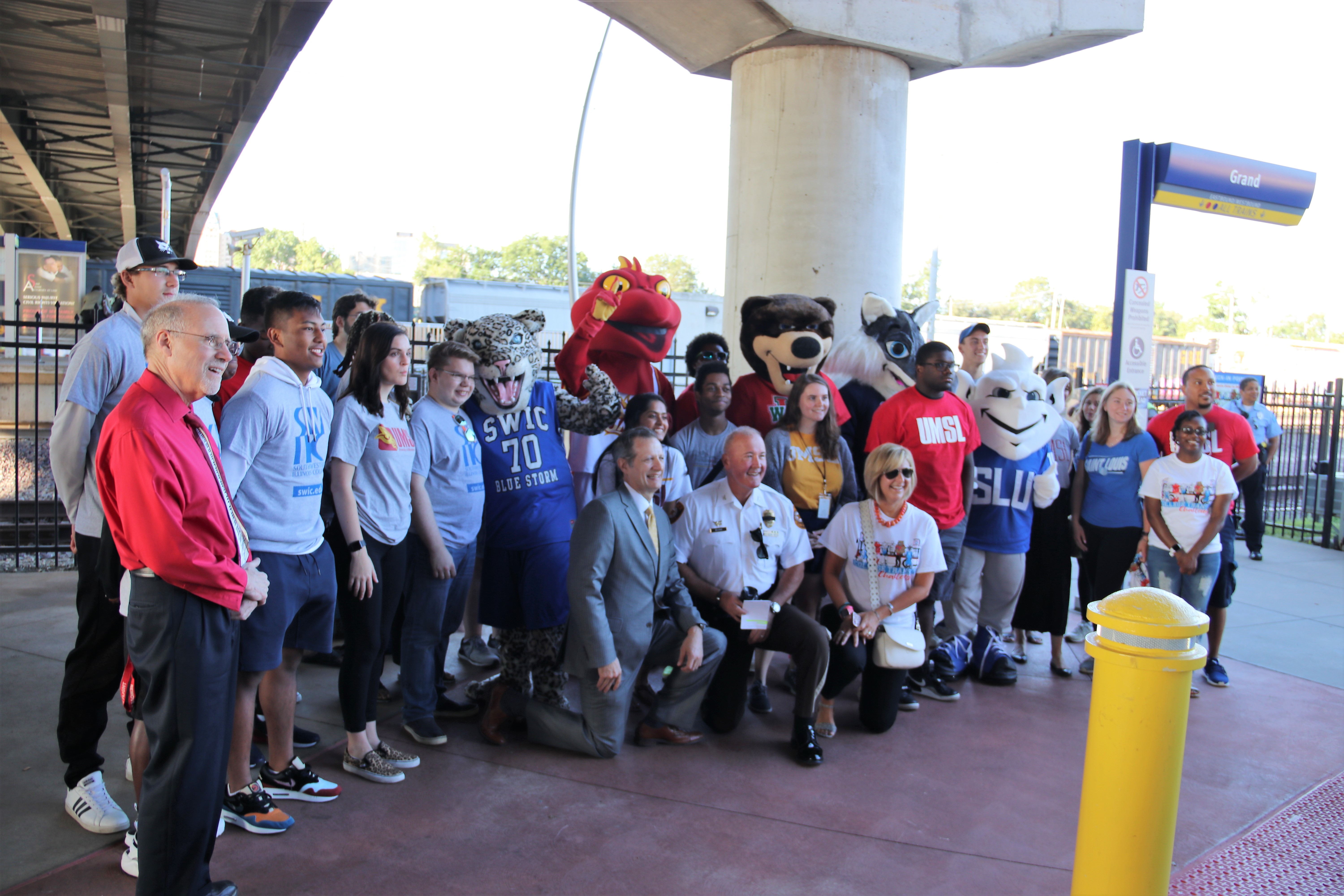 School spirit was on full display this morning as area colleges and our transit partners kicked off the first ever College Transit Challenge at the Grand MetroLink Station in midtown.
Citizens for Modern Transit, Metro Transit, Metro Transit Public Safety and our police partners in St. Louis County, City of St. Louis and St. Clair County teamed up with St. Louis Community College, Saint Louis University, Southwestern Illinois College, University of Missouri–St. Louis and Washington University in St. Louis to host the friendly competition.
The rules of the College Transit Challenge are simple: the school that has the most people riding the transit system will be awarded bragging rights and a special MetroLink Train Trophy. Ridership will be tracked via social media. Participants check in at a Metro location – via Facebook, Instagram or Twitter – and post an update or photo with #iTakeTransit, along with their school name. All College Transit Challenge participants will be entered in a prize drawing for St. Louis Cardinals tickets and more. Plus, those who show their Metro U-Pass to a police officer or Metro Transit Public Safety Officer may receive a special prize as well.
"One of the goals of this challenge is to spotlight the fact that academic institutions are helping to support sustainable transit access through transit fare programming," said Taulby Roach, President and Chief Executive Officer at Bi-State Development. "More than 100,000 passes provide students, faculty and staff unlimited access for MetroBus and MetroLink trips during the school year through Metro's U-Pass program."
High school, college and university students accounted for nearly 2 million MetroLink and 1.6 million MetroBus passenger trips during the last school year. Metro Transit is a safe, cost-effective transportation option for people of all ages, and in the St. Louis region, it's proving to be particularly viable option for students.
"This day-long effort is yet another opportunity for us to reinforce the key role a safe, integrated public transit system plays in providing access and opportunity to an array of resources, including education," said Kimberly Cella, Executive Director of Citizens for Modern Transit. "We are grateful for our academic partners and look forward to a fun-filled day aboard transit."
Return to Blog