August 9, 2018
Campers Use Hip-Hop to Showcase Possibilities at North Hanley Transit Center
Return to Blog
Creative ideas about how to develop the area around the North Hanley Transit Center in North St. Louis County was the topic of discussion last week for a group of children who – with a help of hip-hop – reimagined an entirely new transit experience for their community.
More than 30 North County residents, ages 11-14, attended Hip-Hop Architecture Camp July 30 through August 3, a week-long program presented in partnership by the St. Louis County Library, Urban Arts Collective and Autodesk Inc. The camp combined hip hop music and urban planning. Participants arrived by MetroLink at the North Hanley Transit Center on the first day of camp to explore the transit center and to brainstorm possibilities. No idea was off the table for these bright, young minds.
"We added a rec center, a hospital and a homeless shelter right next to the parking garage," said Akshaj, who walked me through a birds-eye model filled with wooden blocks, trees and water features. "We added more homes and more stuff so you could live here."
Akshaj, 12, stressed the importance of more convenience stores near the transit center as there is currently just one gas station just off the Metro Transit property, on Hanley Road. In addition to commercial and residential components, the children incorporated parks into their ideal communities around the transit center.
"We added a lot of trees and more green space," he said. "The park and trees give people shade."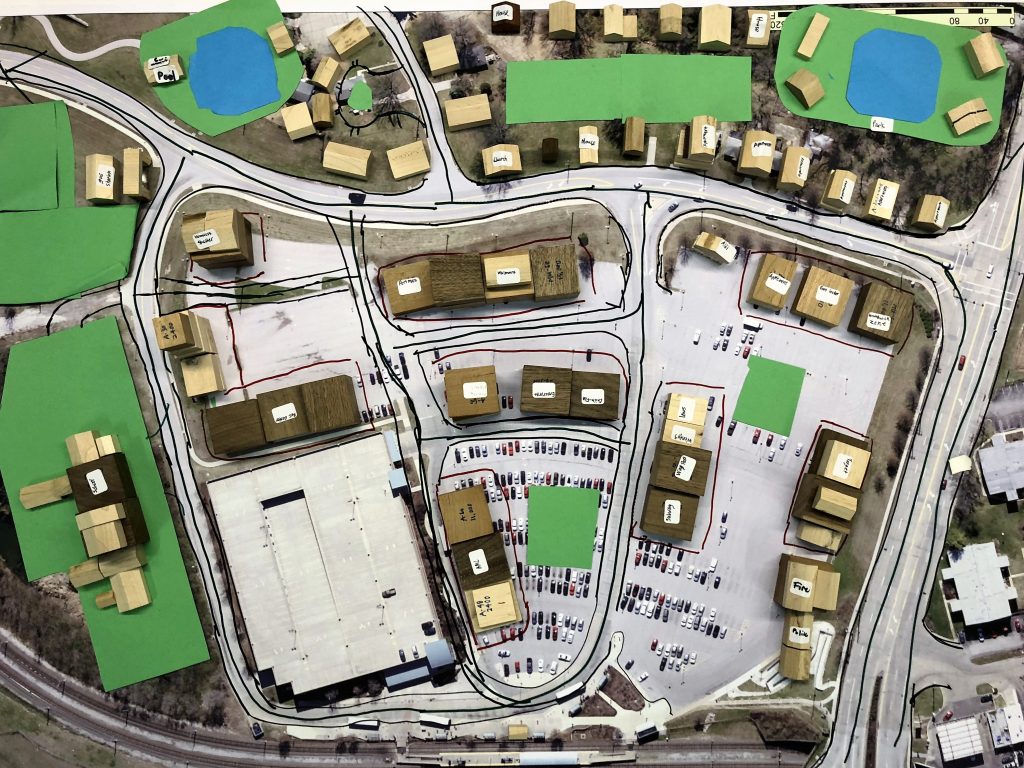 The theme of fewer parking spaces and more green space was echoed in another one of the models created by another group of campers.
David, 12, said his model of the North Hanley Transit Center transformed the surface Park-Ride lot into useable, community space.
"The parking lot has a lot of land that you can actually use for other stuff," he said. "People don't relax in their cars. Our model features a garden that the community can use to grow food instead of going to a store. It saves money, it's organic and it's healthier."
Saskia, 12, who helped David and others design their model, added that – in addition to green space – they wanted a place where the community could function at all times of the day.
"We have a hotel and art gallery for people who want to use the train when they come into St. Louis from the airport," she said. "We have a day care, a recreational center, church, fire station, homeless shelter and clinic."
Camp founder and architect Michael Ford started the first Hip Hop Architecture Camp in 2017 in Madison, Wis. and has since grown the program to about 30 camps across the country this year. The pairing of architecture and hip hop encourages a certain level of expression and creativity.
"The camp enables kids to discover what they want in their community and be able to describe their community using their own language and expression," he said.
---
Photos: Campers travel around St. Louis during Hip Hop Architecture Camp
---
The camp also serves as a way to expose young people to the world of architecture, an industry that has struggled to attract young, diverse talent, according to Ford.
"Right now, less than three percent of architects in the United States are African American and less than 0.2 percent are African American women," he said. "This program is trying to expose kids as early as possible, but doing it through something that is very relevant, something they live, eat, and breathe every day – hip hop."
Beyond the urban models and hip hop lyrics, Ford said the camp provides a safe space for campers to express themselves and their community in a truthful way.
"They are passionate about wanting to solve some of the violence that is happening in the city," he said. "They want to create places and spaces that can become conduits for young men and young women to escape the violence. There's lots of passion."
The highlight of camp (and for Ford himself) was when St. Louis rapper and producer Chingy made an appearance Thursday at the Natural Bridge (library) Branch. Chingy, who is most well-known for his 2003 hit "Right Thurr," participated in a rap battle and helped the campers write lyrics for their hip hop videos which they then shot on Friday.
Chingy encouraged campers to dream and create their own unique flair.
"That's ultimately what this camp is about," Ford said, "whether it's through architecture or hip hop, we want these kids to understand that they have a contribution to make, that they have their own style to show."
Return to Blog